All You Need to Know About Bahria Town Central Park Apartments
Let's face it! Ever since CEO Bahria Town Malik Riaz announced on Twitter about this new project Bahria Town Central Park Apartments, we have been anticipating the booking dates. Central Park Apartments is destined to completely change the concept of living in apartments. Inspired by the Central Park in New York, the booking for Bahria Central Park Apartments is now open.
Before you go out for your bookings, let's share a few details with you to make you more interested in the project. Here are a few details about location, types of apartments, payment plans, and features. Without further ado, let's dig in.
Bahria Central Park Apartments
Bahria Town Central Park Apartments is an upcoming project offering luxurious residential units over the serene view of 32-acre Central Park in Bahria Town Karachi. Central Park Apartments are similar and dissimilar to other projects at the same time. Similar, because these apartments will feature state-of-the-art infrastructure in a secure gated environment. Different because it is located in the heart of Bahria Town right before the picturesque Central Park that pleases the eyes every time you see it.
The Bahria Central Park Apartments will have access to the market, hospitals, mosques, parks, and other attractions in Bahria Town. There are two types of flats that will feature in this project. These come at a very convenient payment plan that is very affordable. The construction of the project is also underway and the developers are of the view that it will be completed in the record time period.
Amenities
Since it is located in the heart of the mega project, Bahria Central Park Apartments is destined to have the same features as Bahria Town Karachi. However, from an investor's point of view, you should know about the features that are available in the project you are going to invest in. According to the master plan of Bahria Paradise, there are going to be small ponds, water reservoirs, tennis courts, recreation centers, skating areas, theatres, playgrounds, jogging areas, museums, zoos, and so much more. All of these features will allow you to keep yourself and your family rejoiced without traveling out frequently.
Central Location
It is not just the name that makes this project Central. The project is located in the Precinct of Bahria Paradise Karachi can be easily accessed through the Main Jinnah Avenue. Moreover, it also connects to the rest of Bahria Town through the network of roads and streets. Some renowned landmarks in the surrounding areas include the Rafi Cricket Stadium, Danzoo, Bahria Town Hospital, Bahria Town Golf Course, and others.
Flat Types
As mentioned earlier, there are two types of flats available for booking in this lucrative project.
2-bed apartments


4-bed limited edition penthouses
The 2-bedroom apartments will be built on an area of 1100 sq. ft while the penthouses will cover an area of
3000 sq. ft.
Payment Plan
The payment plan for Bahria Central Park Apartments is as follows:
Residential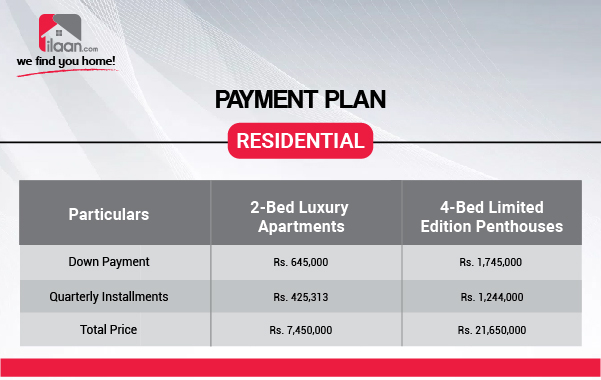 Commercial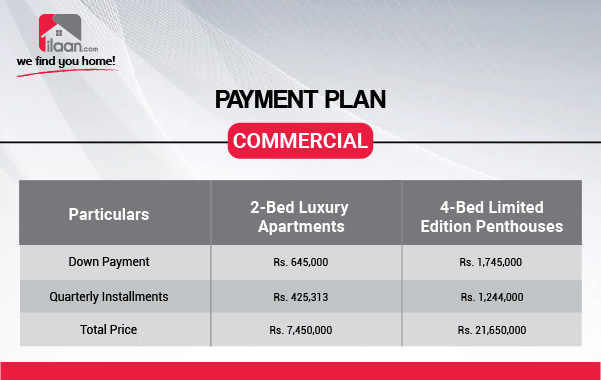 In order to make the bookings, you have to purchase the booking form that is available for just Rs. 1,000 and the registration fee is Rs. 10,000. For more details regarding the project, don't forget to check this post regularly.