Pakistan Island Authority announces vacant position of chairman
Sindh: The Ministry of Maritime Affairs has announced the vacant position of Chairman for Pakistan Island Authority, a news source reported.
Through September 2, 2020 ordinance, the authority has been created. The action was taken without the consent of the Senate and the National Assembly due to their absence in the session. The post has been established for the growth and administration of the islands in the internal waters and territorial waters of Pakistan.
According to the Ordinance, it will be the chairman`s duty to initiate and preserve a continuous process of recuperation, principal planning, urban planning & spatial planning for the specified areas. In the first schedule, there falls Bundal and Buddo Islands. In addition, the chairman will promote and trigger trade for defined areas, will also promote investment, logistics centers and hubs, international tourists exposure, and duty-free areas.
According to Section 3, the ownership of these two islands falls under the federal government and it would be the authority`s responsibility now to for possessing, controlling, managing, and dealing with the islands. But according to Article 172 (2) of the constitution, both islands will remain the provincial government`s property. The article further indicates that all lands, minerals, and other valuable territories within the continent shelf or underlying the ocean beyond the territorial waters of Pakistan come under the federal government`s possession.
While according to Article 172 (3), as per already made commitments and obligations, oil, minerals, and natural gas inside the province or adjacent to territorial waters will be dealt with by both provincial and federal government, equally.
Also Read: Four directorates of MCI transferred to CDA
Article 152 of the Constitution states that if the federal government considers necessary to obtain any land position in a province for any persistence linked with a matter with respect to which it has the supremacy to make laws, it necessitates the province to attain the land on its behalf, and expenditure or, if the land belongs to the province, to transfer it to the federal government on such standings as may be agreed or, in evasion of agreement, as may be resolute by an arbitrator appointed by the CJP.
Official Advertisement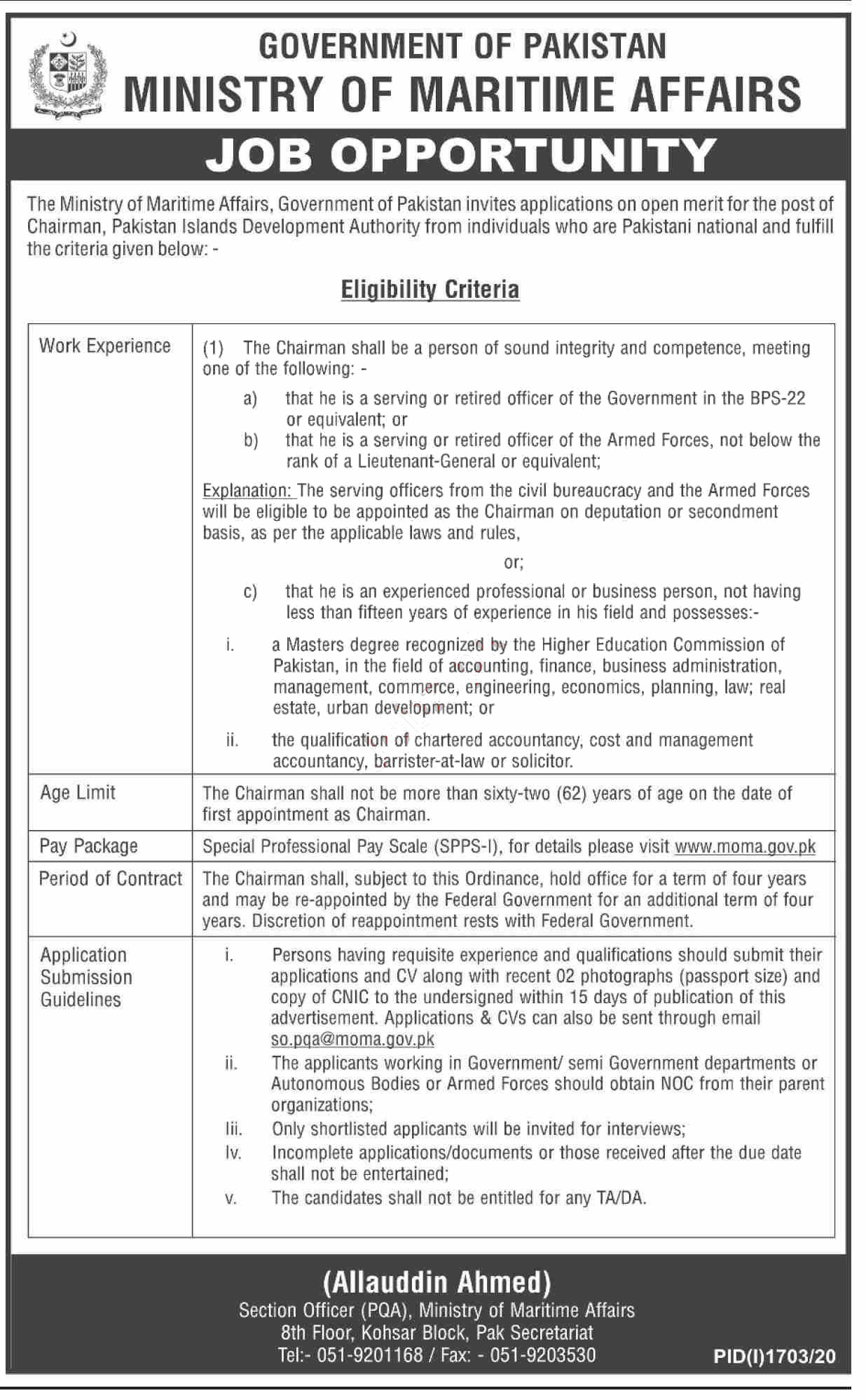 ستمبر دو، 2020 کے آرڈیننس کے ذریعے ، اتھارٹی تشکیل دے دی گئی ہے۔ اجلاس میں سینیٹ اور قومی اسمبلی کی منظوری کے بغیر یہ کارروائی کی گئی۔ اس پوسٹ کو پاکستان کے اندرونی پانی اور علاقائی پانیوں میں جزیروں کی نشوونما اور انتظامیہ کے لئے قائم کیا گیا ہے۔ آرڈیننس کے مطابق ، چیئرمینوں کی ذمہ داری ہوگی کہ وہ مخصوص علاقوں کے لئے صحت یاب ، مستقل منصوبہ بندی ، شہری منصوبہ بندی اور مقامی منصوبہ بندی کے مستقل عمل کو شروع کرنا اور اس کا تحفظ کرنا ہے۔ پہلے شیڈول میں ، بنڈل اور بوڈو جزیرے آتا ہے۔ اس کے علاوہ ، چیئرمین متعین علاقوں کے لئے تجارت کو فروغ اور متحرک کریں گے ، سرمایہ کاری ، رسد کے مراکز اور مرکزوں ، بین الاقوامی سیاحوں کی نمائش اور ڈیوٹی فری علاقوں کو بھی فروغ دیں گے۔
سیکشن 3 کے مطابق ، ان دو جزیروں کی ملکیت وفاقی حکومت کے ماتحت ہے اور اب ان جزیروں پر قبضہ ، کنٹرول ، انتظام اور ان سے نمٹنے کی اتھارٹی کی ذمہ داری ہوگی۔ لیکن آئین کے آرٹیکل 172 )2( کے مطابق ، یہ دونوں جزیرے صوبائی حکومت کی ملکیت رہیں گے۔ مضمون میں مزید اشارہ کیا گیا ہے کہ براعظم شیلف میں موجود تمام اراضی ، معدنیات ، اور دیگر قیمتی علاقوں یا پاکستان کے علاقائی پانیوں سے باہر سمندر کے اندر زیربحث وفاقی حکومت کے قبضے میں ہے۔ جبکہ آرٹیکل 172 )3(کے مطابق ، پہلے سے کیے گئے وعدوں اور ذمہ داریوں کے مطابق ، صوبے کے اندر یا علاقائی پانی سے ملحقہ تیل ، معدنیات ، اور قدرتی گیس دونوں صوبائی اور وفاقی حکومت یکساں طور پر نمٹائے گی۔
آئین کے آرٹیکل 152 کے مطابق ، اگر وفاقی حکومت کسی بھی ثابت قدمی کے لئے کسی صوبے میں کسی بھی اراضی کی پوزیشن حاصل کرنا ضروری سمجھتی ہے جس کے متعلق اس کے پاس قوانین بنانے کی بالادستی ہوتی ہے تو ، اس صوبے کو زمین کو حاصل کرنے کی ضرورت ہوتی ہے۔ اس کی طرف سے ، اور اخراجات یا ، اگر زمین کا تعلق صوبے سے ہے تو ، اسے وفاقی حکومت کو اس طرح کے اسٹینڈز پر منتقل کرنے کے لئے جو اتفاق کیا جاسکتا ہے ، یا معاہدے سے دستبرداری کے طور پر ، جو چیف جسٹس کے ذریعہ مقرر کردہ ثالث کے ذریعہ حل ہوسکتا ہے۔
اتھارٹی کے چیئرمین کے اشتہار کے مطابق ، مطلوبہ شخص حکومت میں حاضر سروس یا ریٹائرڈ BPS-22 آفیسر یا خدمات انجام دینے والا یا فوج کا ریٹائرڈ افسر ہونا چاہئے ، اسے لیفٹیننٹ جنرل یا نمائندے کے درجے سے نیچے نہیں ہونا چاہئے۔ . وہ کم سے کم 15 سال کا تجربہ رکھنے والا تجربہ کار پیشہ ور یا کاروباری شخص بھی ہوسکتا ہے اور اسے بزنس ایڈمنسٹریشن ، فنانس ، اکاؤنٹنگ ، مینجمنٹ ، انجینئرنگ ، کامرس ، اکنامکس ، رئیل اسٹیٹ ، پلاننگ لا ، چارٹرڈ میں ایچ ای سی کی تسلیم شدہ ماسٹر ڈگری حاصل کرنا چاہئے۔ اکاؤنٹنگ ، شہری ترقی ، اکاؤنٹنسی ، بیرسٹر ایڈو قانون یا وکیل، لاگت اور انتظم