First CPEC hydropower project nearing completion
88% work on 720 megawatts Karot Hydropower Project has been completed – Said CPEC Authority Chairman Asim Saleem Bajwa.
Taking to Twitter, the CPEC chief said that it is the first CPEC hydropower project with a total investment of $1,720 million.
He said that the project is expected to be completed by April 2022, adding that that the project has created 5,000 jobs for local residents.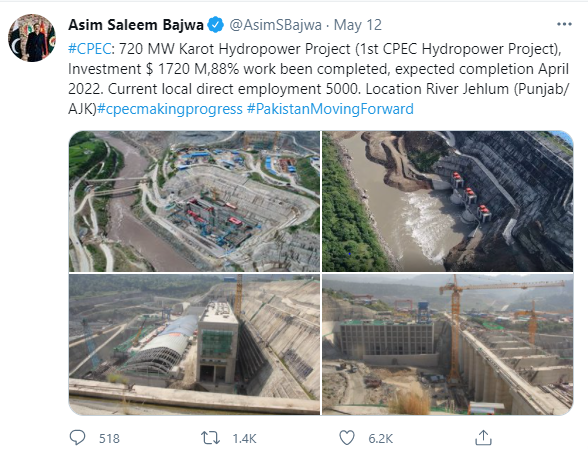 Last month, the government of Azad Jammu and Kashmir (AJK), and the Chinese company signed agreements related to the 1124 megawatt Kohala Hydel Power Project- Implementation and Water Usage, under CPEC.
سی پی ای سی اتھارٹی کے چیئرمین عاصم سلیم باجوہ نے کہا - 720 میگا واٹ کروٹ ہائیڈرو پاور پروجیکٹ پر 88٪ کام مکمل ہوچکا ہے۔
ٹویٹر پر بات کرتے ہوئے ، سی پی ای سی کے سربراہ نے کہا کہ یہ پہلا سی پی ای سی پن بجلی گھر ہے جس میں مجموعی طور پر 1،720 ملین ڈالر کی سرمایہ کاری ہے۔
انہوں نے کہا کہ اس منصوبے کے اپریل 2022 تک مکمل ہونے کی توقع ہے ، انہوں نے مزید کہا کہ اس منصوبے سے مقامی رہائشیوں کے لئے 5 ہزار ملازمتیں پیدا ہوگئی ہیں۔
گذشتہ ماہ ، آزاد جموں وکشمیر (اے جے کے) کی حکومت اور چینی کمپنی نے سی پی ای سی کے تحت 1124 میگاواٹ کوہالہ ہائیڈل پاور پراجیکٹ- عمل آوری اور پانی کے استعمال سے متعلق معاہدوں پر دستخط کیے۔