Top 5 Areas Offering the Best Houses for Sale in Karachi
Are you thinking to settle down in Karachi by buying a house for sale to reside in Karachi? Then you are at the right place!
Karachi is the largest city in Pakistan and is well-known as the twelfth largest city in the world. It is an industrial hub; so many businessmen, salaried individuals, and people belonging from different ethnicity, cultures, and profession are keen to settle down here.
Hence, let us discover about top 5 areas which are offering the best houses for sale in Karachi are:
Scheme 33
Bahria Town
Gadap Town
Defence Housing Authority
Gulistan-e-Jauhar
Scheme 33
Scheme 33, well-known as Gulzar-e-Hijri, is a gigantic region that extends right from Al Asif Square and goes to New Sabzi Mandi on Northern Bypass.
It consists of two housing schemes, which are Malik Cooperative Housing Society, Al Muslim Society, Mashriq Society, Rizvia Cooperative Housing Society Phase-II, Incholi Housing Society, Gulshan-e-Areesha, and Gulshan-e-Kaneez Fatima.
Fun Fact: There are more than 293 housing societies within Scheme 33.
House for sale in Scheme 33
While the local area offers various types of housing choices, it is essential to refer to here that almost 40% of the private properties in Gulzar-e-Hijri are now occupied. The remainder of the space is yet to be developed. A large group of individuals living here belongs from communities like Pushto, Gilgit, Baloch, Muhajir, and Sindhi.
Residential property in scheme 33 is separated in such a manner that the investors can undoubtedly pick a unit that suits their necessities and prerequisites. The neighborhood highlights a wide assortment of single and different-story houses with contemporary interiors and fittings.
These houses for the most part comprise a lounge area, a family room, a garage, a kitchen, a storeroom, and 2 to 4 bedrooms with attached washrooms.
Sale Price Trend for Houses for sale in Scheme 33
Property rates in Karachi are quite high, particularly in its old, more developed regions. This has made it practically unimaginable for people belonging to the middle class for buying a house for sale in scheme 33. To counter this issue, new projects like Gulzar-e-Hijri are being created, where property choices are relatively less.
Before putting resources into the region, you need to consider a few variables like the area, condition, type, and area of a specific house. Rates of 120 sq. yd. houses in scheme 33 ranging from PKR 1 crore to 2.5 crores.
For 200 to 240 sq. yd. houses, the demanded cost is generally between PKR 1.2 crore and PKR 2.3 crore. These rates fluctuate from one house to another and can be negotiated with the consentient of the buyer, and seller/sellers.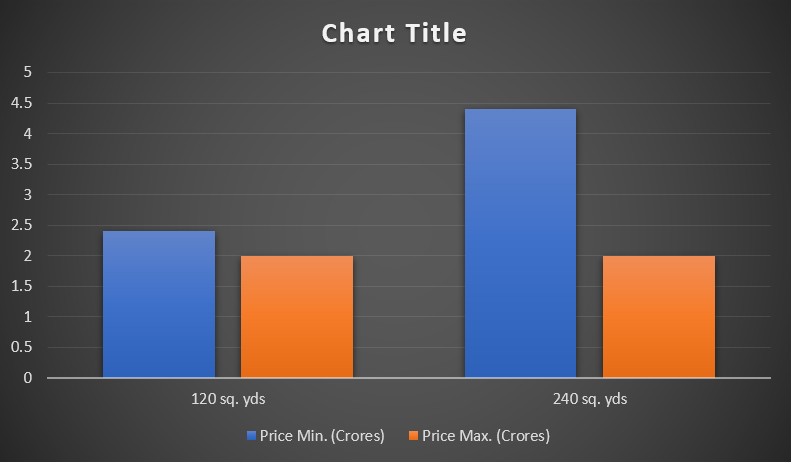 Bahria Town
Bahria Town, an exceptionally secure, gated locality, has set a new benchmark for all housing societies, more established and forthcoming, in Pakistan. The absolute area of Bahria Town, Karachi is about 46,000 acres of land, which offers a quality way of life attributable to its top-notch facilities.
Bahria Town, Karachi is situated at a distance of 9 km from Super Highway and thirty minutes drive from Jinnah International Airport. It is additionally associated with Malir Cantt through the six-lane Expressway.
Bahria Town is pretty much like a city inside a city. It is partitioned into around 31 precincts, Bahria Homes, Bahria Farmhouses, Bahria Apartments, Bahria Icon Tower, Bahria Sports City, Jinnah Avenue Commercial, and Bahria Heights.
Fun Fact: Bahria Town Karachi spans over 16,000 hectares (​40,000 acres) and it is the largest privately-owned residential community in the country.
There is a great variety of houses for sale in Bahria Town Karachi as this society offers a luxurious lifestyle. All these houses vary in dimensions, localities, and their price range depends upon these factors.
Sale Price Trend for Houses in Bahria Town Karachi
Bahria Town, Karachi, offers a vast variety of options for individuals who need to invest in housing. There are 125 sq yd, 200 sq yd, 250 sq yd, 350 sq yd, 500 sq yd, and 1000 sq yd houses ready sale in this society.
The beginning cost for 125 sq yd houses goes from PKR 24 lakh to PKR 1.5 crore. With regards to greater units of 250 sq yds, the expense shift between PKR 36.5 lakh and PKR 3.2 crore. For 500 sq yd houses, the reach begins at PKR 58.5 lakh and reached about PKR 3.85 crore.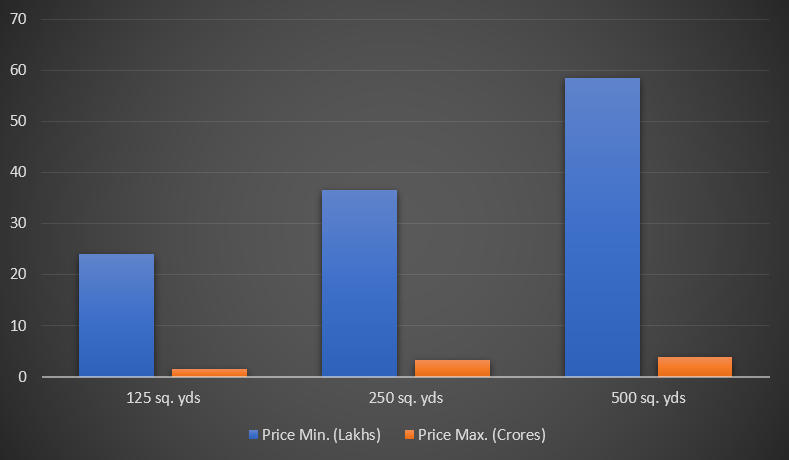 Gadap Town
Gadap Town is spread over a space of 1200 sq km and is viewed as probably the greatest town in the city. Towards the western side, it is constrained by the Hub river. On the eastern side, lies the magnificent Kirthar Mountains.
It consists of eight union councils which are Maymarabad, Gujjro, Darsanno Channo, Murad Memon, Gadap, Manghopir, Songal, and Yusuf Goth.
Compactly populated, these union councils have some well-known housing regions like Gulshan-e-Maymar, Taiser Town, Ahsanabad, and Surjani Town.
Fun Fact: Gadap Town is a town in the northwestern part of Karachi with the Hub River on its western limits also forming the provincial border between Sindh and Balochistan.
House for sale in Gadap Town Karachi
There is a vast variety of houses for sale in Gadap Town Karachi, and all these houses have different ranges of prices as per the location, and the dimension of the house in the region.
Sale Price Trend for Houses in Gadap Town Karachi
While searching for residential units for residing in Gadap Town, you will come across a large number of alternatives with varying rates. Gated communities of Gulshan-e-Maymar and Surjani Town are the most sought-after territories.
Mostly, the 120 sq yd house in Gadap Town will cost you around PKR 25 lakh to PKR 1.5 crore. Since it's a massive town, the difference between these costs is big. Likewise, the demanded cost of a 240 sq yd house fluctuates from PKR 40 lakh to PKR 2.7 crore.
For an extensive 400 sq yd house, rates start from PKR 90 lakh and go up to PKR 4.5 crore.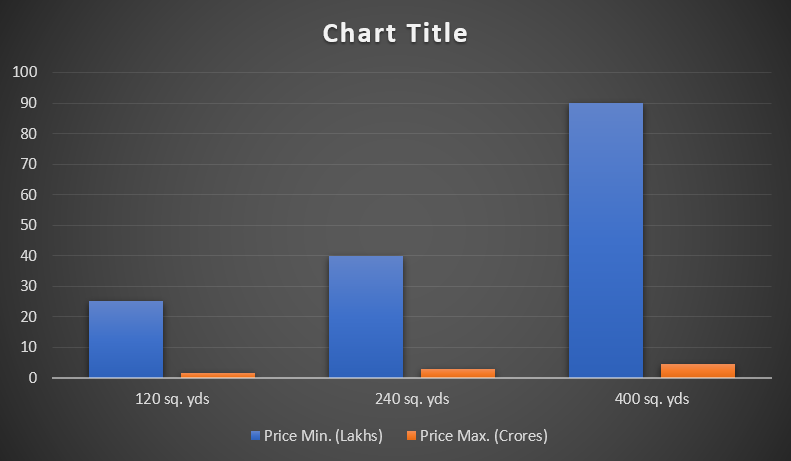 Defence Housing Authority
Defence Housing Authority also called DHA, is found right close to Clifton, on the southern side of Karachi. It is one of those areas in the city that has a top-notch infrastructure. The region is separated into various phases, and each stage consists of different blocks, splitting further.
DHA Karachi was initially made for military faculty and spread over 76.2 acres of land. Nevertheless, because of fast urban development, and planning, the housing society has gotten one of the main real estate markets in Karachi.
By this time, the society is spread across around 8,797 acres of land and keeps on developing at a consistent speed.
House for sale in Defence Housing Authority
The greater part of the properties available to be purchased in DHA Karachi is well-planned and highlights flawless subtleties like tiled washrooms, American-style kitchens, wooden flooring, and so forth.
The smallest area size for a house in DHA is around 120 sq. yd. From that point forward, 240 sq. yd. units are very common in this region.
Nevertheless, the most well-known area size is 500 sq yd home among purchasers with greater families, and extensive budget, 1000 and 2000 sq. yd. are additionally two extremely famous sizes in demand.
Fun Fact: DHA Karachi is the poshest town in Karachi. It is said that only the rich can afford a house in DHA Karachi.
Sale Price Trend for Houses in DHA Karachi
The rate lists for houses in DHA Karachi fluctuate with the phase the unit is situated in. Spots situated in the old phases are pricier than the ones in the fresher phases. For instance, a 125 sq yd unit in DHA is for sale in the scope of PKR 2.7 crore to PKR 7 crore, contingent upon its construction quality, age, and locality.
A 250 sq. yd. home ranges from PKR 3.4 crore and PKR 11.5 crore. 500 sq. yd. houses are generally falling between PKR 5 crore to PKR 25 crore in DHA.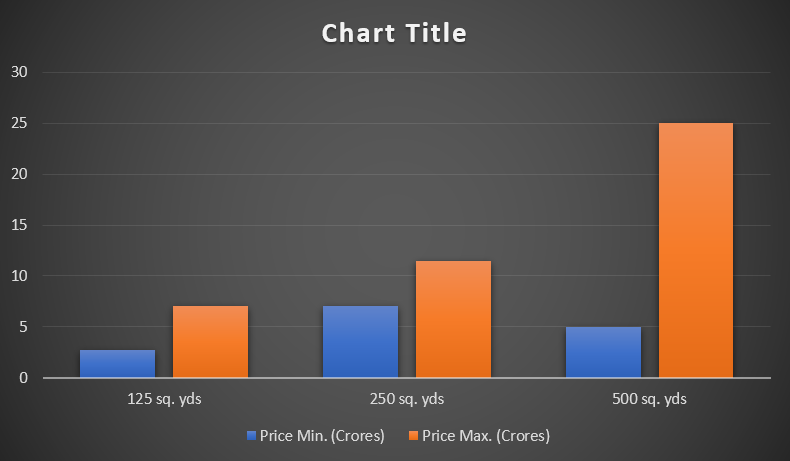 Gulistan-e-Jauhar
Karachi is a city with numerous exclusive features in its name. It is the city of lights, the city next to the sea, and the economic hub of Pakistan because of its port, it has been the focal point of economic activity in the country, with a lot of the products imported going through it.
Thus, business and vocation opportunities here are huge, so individuals have been moving to Karachi in huge numbers for a long time.
This has prompted an excess interest for homes in the port city, with the stakeholder of the property market putting forth a valiant effort to take into account this interest of people.
Fun Fact: There are 20 blocks of Gulistan-e-Jauhar. There are different societies housed inside Gulistan-e-Jauhar.
House for sale in Gulistan-e-Jauhar
Gulistan-e-Jauhar began around 1986, has a wide scope of options for homes and flats. There are various blocks to discover with regards to purchasing a house in Gulistan-e-Jauhar. The numbered blocks range from Block 1 to Block 20.
Different squares incorporate residential projects, recorded as Sachal Goth, Mehran Banglows Town, Abbas Town, Zohra Nagar, Palm Residency, Falaknaz Golden Pebbles, Pioneer Cottages, Rehman Villas, and Latifi Cooperative Housing.
Sale Price Trends for Houses in Gulistan-e-Jauhar
Similar to the wide range of sizes for a Gulistan-e-Jauhar house available to be purchased, the rates additionally differ significantly. The rates start from as low as PKR 1,200,000 for small houses. Sale prices can go as much high as PKR 310,000,000 for sumptuous housing options available, however, it will cost under PKR 150,000,000.
Now you are familiar with the top five areas of the city which offer the best options for houses for sale in Karachi. It's time for you to make your final decision!