Time to Rejuvenate Yourself this Summer at Churna Island – A Guide to Paradise on Earth
Time to Rejuvenate Yourself this Summer at Churna Island – A Guide to Paradise on Earth
"Live in the Sunshine, swim in the Sea and drink the wild Air." Ralph Waldo Emerson
Whenever you ask someone in Pakistan where they wish to travel within the country, the majority will talk about only the Northern areas of Pakistan. The erotic beauty and sensual weather of the Northern areas are the basic reason why everyone talks about it and loves to visit it. All the tourists who are traveling to Pakistan, also believe that visiting the Northern areas of the country is a vital thing for them.
But is it perfect to limit yourself to only hilly tops and stations and the mountains? There are other attractions too in Pakistan that is too adventurous to die for. Just wonder how it would feel like to swim in the natural sea or a beautiful lakeside under cool and tender breeze with underwater diving facility among real fishes. Well, Churna Island in Karachi is one of the most beautiful and enchanting adventurous spots to enjoy a hot summer day with your friends and family. There is no doubt that Churna Island is a paradise on the Earth.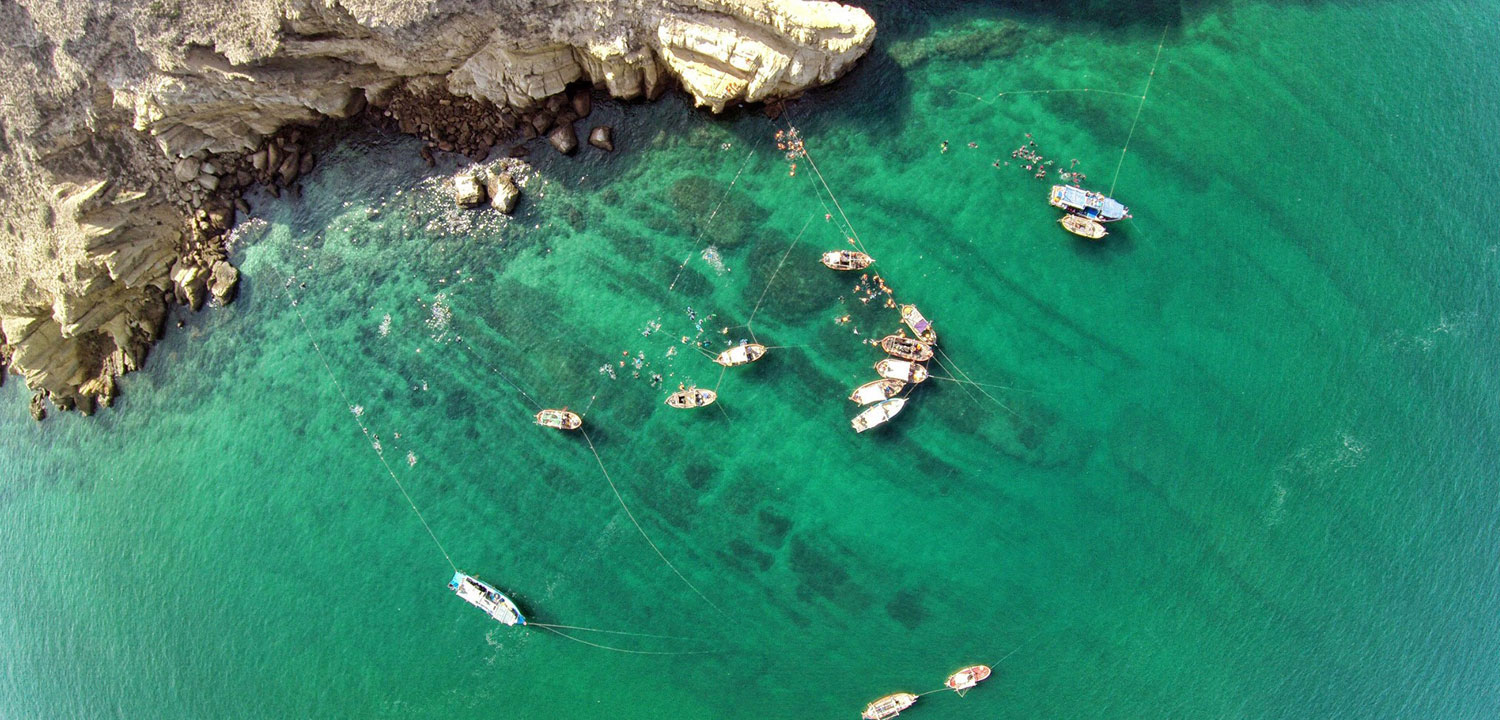 Where to Find Churna Island?
Located near to Mubarak Goth and the Kiamari town in Karachi, the beautiful Churna Island is one of the most exotic islands located on the Arabia Sea. It is the only sea area in Sindh that has green crystal clear water. The underrated island is sharing its vast boundary amid Baluchistan and Sindh.
The 2nd largest locality of the fishermen in Sindh is Mubarak Goth and Churna Island is just 6 km away from this location. It has rocky island without shore and has khaki rock mountains in the middle. It takes nearly 2 hours to reach Churna Island after crossing Karachi Toll Plaza. The water at the island is pollutant free and well-maintained by the locals over there. With the heavy breeze, clean island and soothing water sight, Churna Island is the best spot to relax your mind and heal your soul with happiness and calmness.
There are many attractions at Churna Island but a few years back the locals saw a blue whale near the island. Since then, it is easy to spot different sort of whales at the location. If you are daring and not afraid of whales than join the craziness at Churna Island and enjoy the mesmerizing beauty of nature.
Journey to Heavenly Beauty on Earth
Get an hour's exclusive boat ride, right from Mubarak village to the place of your dreams. Especially in winters, the complete scenery is breathtaking, there are hazy roads with cool breeze surrounding you and a beautiful sun shining down. While you are sailing in the boat to reach your destination, you can watch the incredible marine life through the crystal clear water. Grab your phone and capture the lovely moments of the amazing aquatic life beneath the sea.
Dive Into Snorkel
Among all the activities at Churna Island, snorkeling is one of the most adventurous and thrilling activity. Grab your swim fins, wear your diving mask and of course your life jacket and just dive in the green crystal water. It is the time to swim with the fishes and enjoy a glorious view of the marine life, seen and experienced never before. There is an underwater photography facility too, so you can easily capture each moment spent around the fishes. Being at Churna Island allows you to turn your dream into a reality of swimming along the audacious seabed, enjoying the colorful fishes and capturing every moment with perfection.
You can also simply swim in the water. Grab your life jacket and dive off your boat to enjoy a cozy time swimming around the beauty. You can float across the water and admire the nature's utmost exquisiteness all the way you go.
Don't Stop, Jet Ski Your Way Out
Yeah, you heard it right, at Churna Island, you can Jet Ski too. With the assistance of a professional driver, you can easily enjoy the calmness of the sea and admire the beauty of nature. The most attractive part is that the drivers even allow you to control your Jet Ski, all by yourself. Enjoy the thrilling adventure in the Jet Ski, just you, your amazing thoughts and the stretching calm sea with awe-inspiring views.
Time to Dive off the Cliff
If you wish to face your fear of heights then this is one of the best ways to cope up with it. At Churna Island, you can find a cliff that is made for jumping right into the beach. It is an 80 feet high cliff from where you can dive off and toss yourself straight into the beach. It is the time to face your fears, get your safety glasses, tune in your adventurous mode and jump right into the beach. And yes, as you dive there is the facility of photography too to capture the moments when you are flying 80 feet above the water level.
Explore the Hidden
There are a lot of caves at Churna Island and exploring these are really fun. The experienced crew guides you in each cave and shows ravishing caves that are hidden from naked eyes. This is an attraction that Churna Island offers, giving a chance to see caves in reality and exploring the hidden beauty secreted in them.
Overnight Camping for Bonfire Lovers
If you are a bonfire lover and loves to camp at night than Churna Island is your spot. With an incredible view, gaze the stars while sitting around the bonfire with sparkling eyes. What is most appealing is that the locals bring in fishes to serve you that they caught earlier the day. Trust us, they make the tastiest fish in town and eating fish in a live setting is more tempting for sure.
Waterproof Camera's for Your Service
Every moment of yours is special, therefore at Churna Island, there is a facility of underwater photography, making sure that every moment is captured with happiness. High-resolution professional cameras are available that are waterproof. As you dive off the cliff or go for Jet Ski with friends or simply snorkel around, the photography will never stop, ensuring every glimpse of your smile captured professionally. There are certain photographers who are always ready to capture photos of yours as per your demand and your style. They make sure that every fish smiles with you in snorkeling and is well captured, unless and until it is a shark and you have to run away.
There is certainly no doubt that Churna Island is a heaven that is available on the Earth. So before you plan to go on the Northern area trip, don't forget to update your bucket list with a trip to Churna Island too. Trust us, you will not regret your decision even for a single second. The beautiful island is waiting for you so when it is already too hot in Karachi, going to Churna Island to release your steam off and upwind your body in nature's beauty is the best thing to do. If you need any assistance with Churna Island trip, feel free to contact our live chat service at ilaan.com.