The Impact of Digitization on Real Estate World
Digitization trend is now driving the reach in the real estate world. People make use of digital resources to buy and sell properties. Like any other field and activity, the arena of real estate is no exception, where people browse through the internet when they want to buy or sell a property.
Where people used to read newspapers in the past to look for properties for sale or rent, it has been estimated by the National Association of Realtors that almost 44 percent of the buyers look for it through online resources now.
Owing to this trend, realtors are now relying on the internet means to boost their businesses. Websites and mobile applications are now being made at which properties are listed to be sold. Almost 90 percent of the realtors now have their own official websites. People can look for residential or commercial properties to buy or sell using these web and application resources. Furthermore, these online listings are further accentuated with the added features like HD photography, detailed floor plans, video coverage, and a lot more to make it easier for the audience to take a virtual tour of the property and get an idea of what it looks like from outside as well as inside. These features help the buyers make an informed decision, and sellers all over the world are using these features to compete with one another and stand out among the competitors with their property listings. With the contingent factors involved in the real estate market that influence the pricing and other factors related to it, these realtors really have to push it hard to make it to the competition and survive through it. The Internet, thankfully, has made this a lot easier with the variety of options and benefits that it offers.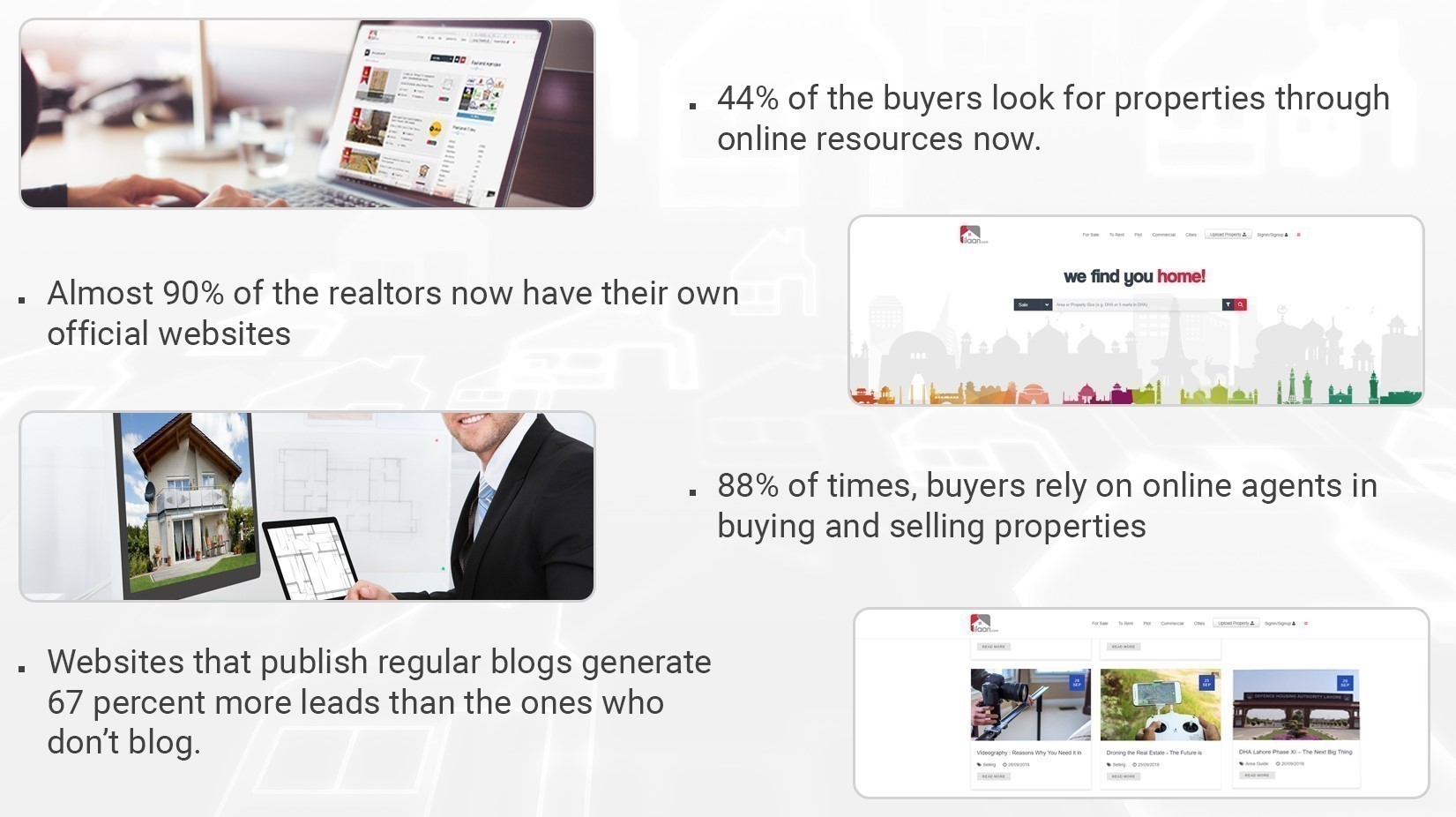 The Ease with the Agents
Online listings are also famous among the target audiences as these enable the users to make a cross-comparison across different options available, which is possible virtually but not physically. Moreover, finding out property agents is also now easier through online means. Until the late 1980s people used to reach out the property dealers and agents only through references because there used to be a number of cases of fraud and bluff in the real estate market. However, now that the process has been digitized, it is easier to look for the right agents and check their credibility as well. With the real-time reviews that you see and the profiles developed across all online platforms, particularly social media, it is now much more convenient to spot the fair ones among the others. According to an estimate of 2016, 88 percent of the time buyers rely on online agents for buying and selling properties. Since these agents are more informed of the property news and trends in any given market or area, it is important to seek consultation from them before taking a final decision.
Going Beyond the Internet
It is not just the internet that has created marvels in the field of real estate. Rather, more applications of the technology are now being incorporated into the practice of buying and selling residential and commercial properties. Drone cameras are now being used for the coverage of the properties to show an aerial view to the potential buyers. Ordinates taken through GPS and navigations are also being used to filter the search results for people looking for a house for sale or rent. Moreover, it is not just the presence on the internet that is important. Realtors, like any other business, are investing heavily in digital marketing, both in terms of money as well as effort and time. Blogs, Search Engine Optimization, email marketing, and social media marketing are some of the top techniques that realtors utilize to crawl up the search results across search engines. Although email marketing is now considered old school, it is still used for more targeted campaigns in the real estate world. It has also been found out that websites that publish regular blogs generate 67 percent more leads than the ones who don't blog.
Hence digitization has completely transformed the real estate experience for both the sellers as well as buyers. If you are looking for a house for sale or a commercial plot for rent, you need to understand how digitization has influenced the market and how you can tap on these opportunities to make the most of them.