SB Skyline - The Best Project to Invest in Bahria Town Karachi
Bahria Town is considered as one of the most lavish places to reside at, offering a luxurious lifestyle, and all possible facilities. To add to this luxury, here comes another project in Bahria Town Karachi which is in process of development.
SB Skyline by SkillS Builders & Developers is a new project in Bahria Town Karachi. The project offers a luxurious lifestyle to those who want nothing but the best.
Presenting SB Skyline
SkyLine isn't just a project consisting of Luxurious Apartments, it's a home equipped with lavish facilities that enhances your living experience. Its name is kept as "Skyline" to make you feel like living in the skies, referring to its beauty.
When you are reaching for the stars, the sky is just the beginning. Move to a modern luxurious home, and aim for the skies.
It is the project of Skill Builders and Developers who are famous for constructing projects leading to modern lifestyle. They fall amongst one of Pakistan`s leading Real Estate Developers, and they joined the construction industry with a vision to change its course. Their priority is always the quality of their projects.
Additionally, they focus on the incorporation of modern design, and technology to produce a timeless project that feels modern even after decades.
Luxuries it offers?
SB Skyline is situated, in the heart of Bahria Town, Plot No. 85-B, opposite Jinnah Avenue, the project is currently offering the following luxurious: Spacious, and elegant showrooms, Modern Reception, Elevators & Apartment Lobby, Comfortable Ventilated Bedroom, Luxurious Deluxe Bathrooms, Lavish dining spaces with natural light and ventilation, Modern & Spacious Kitchen, Elegantly Spacious Living Spaces, Exquisitely Designed Terrace, 2 Duplex 17 or 18 Floor, 4 Apartments on Floor 10 to 16, 2 Bedroom Apartments, 4 Bedroom Apartments, Duplex Apartments.
Ideal Location of the Project
Location is an important factor to keep in mind whenever you choose a residence. SB Skyline is located at the most ideal place in Bahria Town Karachi. As it is 25 km away from Jinnah International Airport, 10 Minutes Distance from Karachi M9 motorway, 9 Minutes Distance from Super Highway Toll Plaza, 5 Minutes Distance from Picnic World Water Park, 3 Minutes Distance from The Great Fiesta Family Water Park, 4 km away from Malir River, 30 Minutes Distance from Disney Land Farm House.
This means that you can easily commute to these places within less period of it. As they all are located near SB Skylines.
Best Investment Opportunity
Bahria Town has always been a gold mine for investors, and now with the addition of another luxurious project in it, its value has further increased, and it has become an ideal hub for investment.
These days, you cannot rely upon the area you have invested in, the property value may not increase with the passage of time, but can decrease. This will lead to misfortune, and your purpose of investment won`t be fulfilled, while you will go in loss.
But, investing in Bahria Town assures define profit gains, as the property value in this society will always increase, with time.
If you invest today, you will get high-profit gains in the future, so why will anyone miss such an opportunity? Book your apartment today!
Invest with Confidence
Some people do get afraid of investing in Bahria Town which they should not because you will never regret making an investment in this area. Also, you will not get this kind of lifestyle in any other society of Pakistan. SB Skyline is developed by one of the most credible and well-reputed developers in town. They are responsible for developing projects of the highest calibre. Plus, it is being marketed by ilaan.com that only markets approved projects.
Payment Plan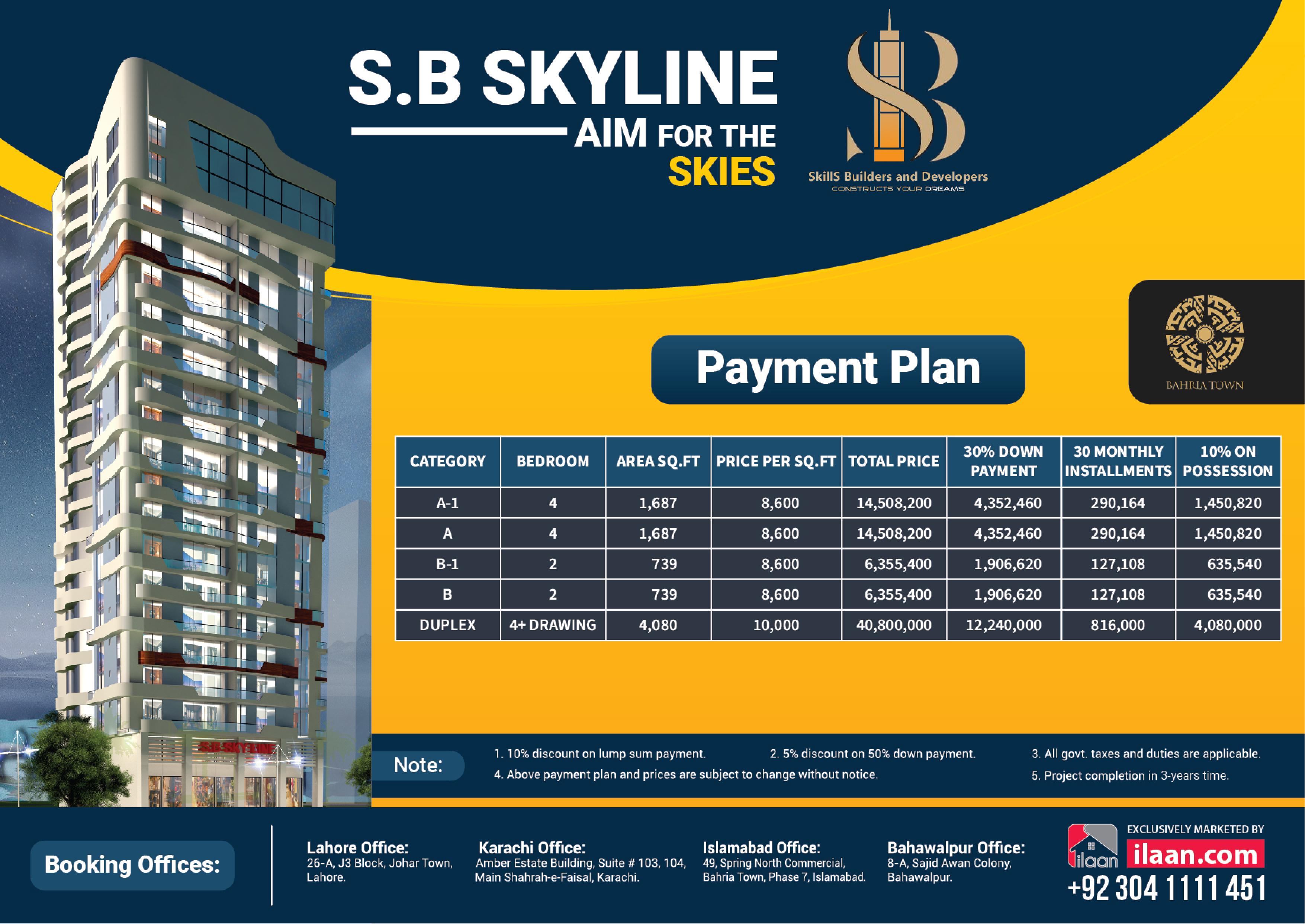 Bookings
To book an apartment or duplex in SB Skyline, you can contact ilaan.com by filling out the form on this link.