Safari Gold Apartments – Where Budget Friendly Housing Resides
Making the life decision as to where you rest your head every night and live your life during the day can be a daunting task to say the least. A final conclusion of this magnitude requires clear thought and concise evaluation.
As the land price continues to increase in Lahore and its suburbs, it has become nearly impossible for lower and middle-class income scales to even dream about buying a plot.
Having said that, apartments are the best medium to serve the purpose of housing and come with specific amenities that are not available in houses. Even if the price is significantly lower, the location aspect will always be a cause of worry. The location is a crucial aspect of a house and it affects significantly its price and average costs of apartments in general.
With the trend of living in apartments growing rapidly in Lahore, finding the right apartment project is crucial if you want to get maximum value for the money. One of those projects where you can guarantee a comfy lifestyle in a budget is Safari Gold Apartments.
Why Safari Gold Apartments?
Safari Gold Apartments is Lahore's first smart gated community located in the rapidly developing location of Raiwind Road Lahore. This society features 2-bedroom and studio apartments on easy monthly installments. The project is planned to have 42 buildings of ground plus three floors. Safari Gold Apartments would have duplex buildings with dedicated high-speed lifts powered by a backup generator.
The security of the building will be ensured on all floors through CCTV cameras installed in the corridors and the entrance/exit points. Each apartment comes with a dedicated parking space to be allocated in the basement of the building. The society is approved by Town Management Authority (TMA) and other relevant authorities.
The project is ideal for people looking for affordable housing solutions in the suburbs of Lahore. The location of the project is ideal for several reasons. The society enjoys proximity to some of the best schools, colleges, and universities in Lahore including Pak Turk School, Superior University, Sharif Medical Complex, and the University of Lahore. Just 15-minutes' drive from Thokar Niaz Baig and Canal Road offers convenience in travelling easily.
Salient Features
Safari Gold Apartments is an amalgamation of top-class amenities and facilities. The project features high-speed lifts, housekeeping services, dedicated covered parking space, backup generator, 24/7 security, commercial area, mosque, and park. Ideal location of Raiwind Road Lahore makes it the best choice at a reasonable budget.
Future Projections
In the last couple of years, the market price of land near Bhopatiyan Chowk has increased by a high margin of 60 to 70%. In the next 3 years, the prices are further expected to increase by 70-90 percent. This price increase is mainly because of the development work and growing number of housing schemes in the nearby areas.
Price Comparisons
As compared to other projects of similar nature, Safari Gold Apartments has the lowest per square feet rate. The below image can give you a clear understanding of the price differences of projects similar to Safari Gold Apartments.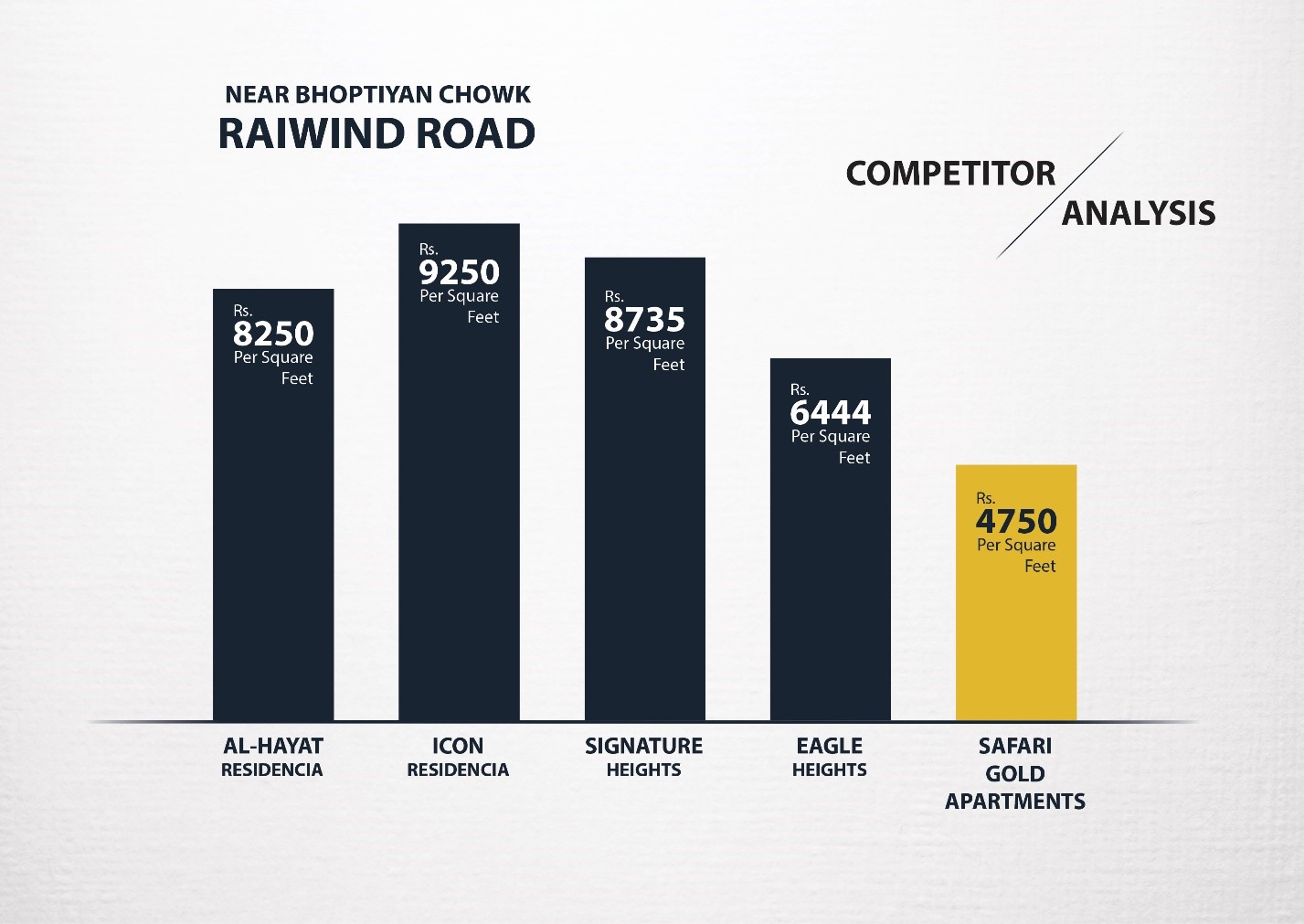 Payment Plan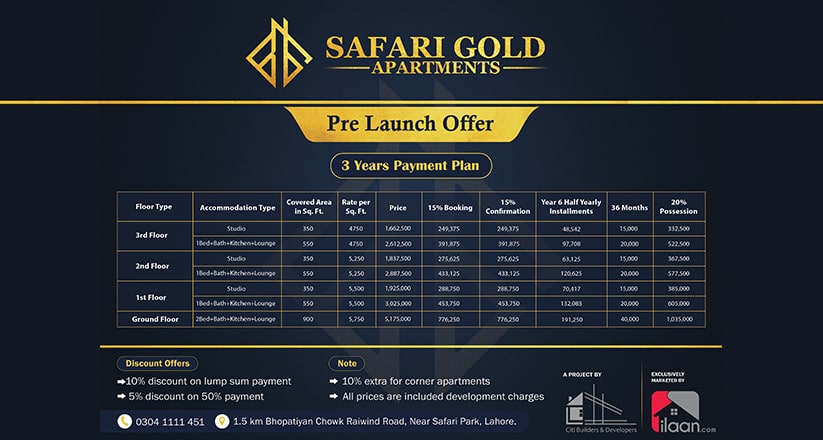 Safari Gold Apartments is exclusively marketed by ilaan.com. For bookings and details, you can reach out to us on the following number:
0304 – 1111451.