Mohatta Palace – Historic Tourist Landmark of Karachi
Karachi is a beautiful city that is enriched with exotic locations and famous places that can be visited with families and friends for enjoyment and knowledge. There are a few places that have detailed architectural work dating years back, even before partition and independence of Pakistan.
Among many posh areas in Karachi, Clifton is one of the preferred locations where wealthiest families of the city love to live. There are many exotic places that reside in Clifton but there is a certain building that looks like a palace and is a heritage of older times before partition and is one of the most attractive spots for the people who are close to the architectural world.
Mohatta Palace, aging back 1927 was built by Shivratan Chandraratan Mohatta who was a wealthy businessman and built this fascinating building for the love of his life, his wife. There lies a beautiful story behind its existence and some rumors too of the palace being haunted. We are going to discuss every detail in depth and guide you about this momentous place.
Location of the Palace
The famous building, Mohatta Palace is a museum that is located in Karachi. It is built near the posh seaside locale of Clifton by a wealthy businessman who was Hindu Marwari named as Shivratan Chandraratan Mohatta. It is located in the old Clifton area at Hatim Alvi road. After independence, this palace was used by Quaid-e-Azam Mohammad Ali Jinnah's sister, Fatima Jinnah as her residential area until her death in 1967.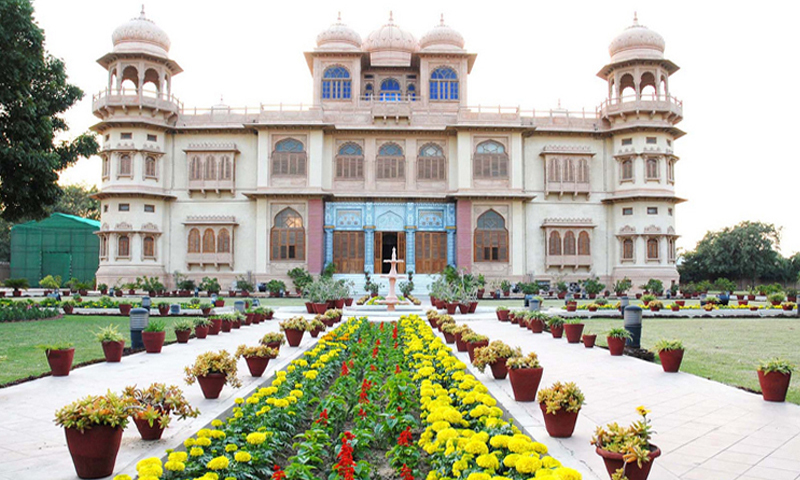 Features of the Palace
The palace is designed and architect by Agha Ahmed Hussain. It is built on an area of 18,500 sq. ft. and the front area is trimmed with beautiful windows, spandrels, stone brackets, balustrades with floral motifs, domes, and exquisite railings. You can see nine domes in total, where there is a dome in the middle of the building, whereas the windows in the front portion of the palace open into a beautiful garden. The palace is designed with delicacy and is made of teak wood which has a polished staircase, doors opening within doors and long unique designed corridors. On the ground floor of the palace, you can find large stately rooms that are designed solely for entertainment purpose, whereas the first floor comprises of private facilities. The terrace of the palace has a temple that was dedicated to a Hindu God names as Lord Shiva.
This palace is designed in a traditional way of that era with Rajasthan stonework, with a combination of pink Jodhpur stones and local yellow stones from Gizri. The peacock motifs in the stonework are worth watching and are awe-inspiring. Hibiscus flower motifs are carved between the rectangular shapes underneath all the windows. On the doorways, there is marigold flower motif carved precisely.
The complete palace is made on three different levels, the basement, ground floor, and the first floor, till you reach the beautiful roof. You can find the basement on the north side of the building that is quite small in size and it comprises of the staircase that goes downwards to a hot water chamber that is connected to a changing room. The ground floor of Mohatta Palace contains some large rooms that are designed for entertainment purpose. There is a spacious and airy corridor with huge walls that has ornate ceilings and a staircase that connects to the first floor. The first floor has private facilities such as four large bedrooms that have attached restrooms and dressing rooms. The long corridor is connected to a staircase that takes to the rooftop. The roof has four octagonal towers making the palace one of the most beautiful creations of the times.
History of the Museum
In 1927, the successful Marwari entrepreneur, ship handler and trader, Shivratan Chandraratan Mohatta made this beautiful palace near the seaside. The architect of the palace was the first Muslim architect of India who traveled from Jaipur to design this. Agha Ahmed Hussain has designed many buildings in Karachi before but Mohatta Palace proved to be a milestone in his career.
Shivratan Mohatta lived in this palace for only two years and left Karachi for India in 1947, at the time of partition. The palace was then acquired by the government of Pakistan for managing its foreign affairs. When in 1964 the Ministry of Foreign Affairs moved to Islamabad, this palace was given to Ms. Fatima Jinnah to live. After her death, her sister Shireen Bai lived there till her death too and then was sealed until it was bought by the Government of Sindh. Thus it converted into a museum after that was supposed to foster pure awareness as well as an appreciation of the heritage of cultural values of Pakistan and its regions. Since then, the palace held many exhibitions and is one of the famous tourist points for people who visit Pakistan.
Love Story Behind Mohatta Palace Building
The story behind the construction of Mohatta Palace is a love story, a love tale for the wife. The difference between the construction of Taj Mahal and Mohatta Palace is that Taj Mahal was constructed by Mughal Emperor Shah Jehan in memories of his dead wife, whereas Mohatta Palace was built in order to save the wife of Shivratan from dying.
The wife of Shivratan Mohatta was dying from some serious illness and there was no cure for it. Doctors recommended Mohatta to take his wife somewhere there is a refreshing breeze and strong winds of the sea, this might help her in curing the disease. Thus for the love for his wife he selected Clifton seaside to construct this beautiful piece of the architect, covering a large area to make a palace for his wife and cure her illness.
A Secret Tunnel in Mohatta Palace
One of the biggest debate and rumor of Mohatta Palace is associated with a tunnel that is inside the palace. It is said that the tunnel is haunted and has ghosts captured in it. But the real story is totally different from it. It has a secret underground tunnel that actually leads to a way to a subterranean Hindu temple that is just a kilometer away. Shivratan Mohatta asked to make this secret tunnel to provide a safe passage for his wife so that she can go daily to do worship without any concerns. The tunnel exists even today, but with the passage of time, the entrance from both the sides got blocked and thus it becomes a rumor that there are some ghosts that are captured in here.
There is no doubt that Mohatta Palace is one of the most beautiful pieces of architect and it is made with every possible beauty. It is a landmark that conveys the timeless love of a husband for his wife, to save her from dying and leaving him behind in this world. It is amazing to visit and see the different colors of the cultural heritage of Pakistan in the museum and witness the sensational construction and precise stonework on every wall. Go and visit the beautiful tourist spot of Karachi and of course don't get frightened of the tunnel as there is no ghost in there at all.