Model Town Lahore: An Optimum Choice For Living!
Home sweet home! A dream of every man and woman and what if you also yearn for a fascinating locality. Yeah, not only the shelter but a luxe place surrounded by grounds, malls, dine out spots, and groomed architect. Already drooling over such a place? Hunt for properties for sale in Model Town, a well-planned locality in Lahore.
Adjacent to Kalma Chowk Lahore, Model Town is indeed the society of parks in the city of the gardens. It is one of the localities that dates back to 1921. Still a cooperative society, once a dwelling of honorable judges, business tycoons, and engineers houses the upper class in it.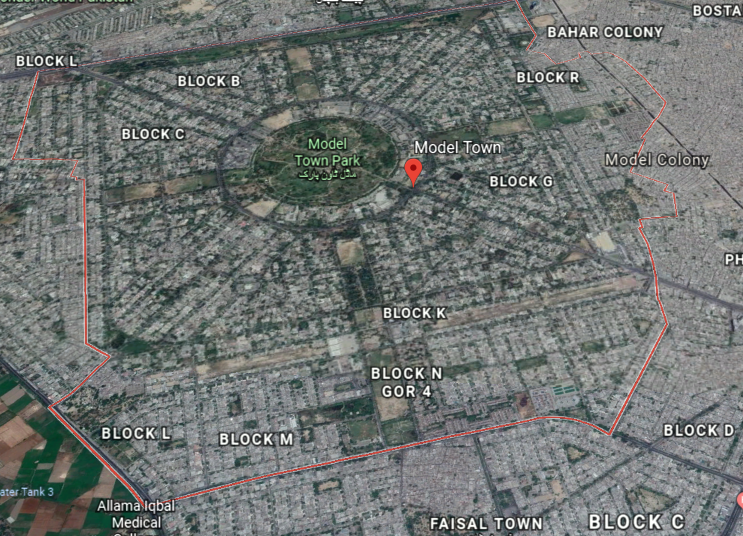 Model Town Aerial View, Courtesy Google Earth
A square-shaped society covers 5.9 square kilometers (1463 acres), primarily contains ten blocks to which major roads divide. Having the main ground, Model Town Park, in the center, the blocks are architected horizontally, vertically, and diagonally. Its only attraction is not the central park. But, the society offers the versatility of green belts and parks to all the blocks. The cooperative society maintains A, B, C D, E, F, G, H, J, and K blocks. Whereas it has sold the rest land to Lahore Development Authority, which is also known as Model Town Extension occupying L, M, N, P, Q, R, and S.
You will be amazed to know that 19% of the total area of Model Town, Lahore is reserved for parks. Additionally, nurseries and play areas surround 4%. This vast green area is what the largest housing societies lack. It is hard to find a house covering less than ten marlas in Model Town. And almost all homes have built-in lawns or green patches in them. So, if you are looking for a world-class architect at the best place take a close at the collection of our houses for rent in Model Town Lahore.
Luxuries Model Town Offers:
Each of its blocks contains a market, unique for various attractions. However, the C block market is the huge one offering all facilities of life. The round-shaped market includes all major banks to keep your finance in your hands. From Meezan to Soneri, to Alfalah, to STC, MCB, BOP, FINCA, WU, and Al Baraka there is hardly any bank not available.
To satisfy your dine out craze there are multiple fast food and traditional restaurants indulging your buds. Enjoy hot Gloria Jean's coffee in the chilling nights of winter within walking distance. Or handily shop sports stuff, books, clothes or whatever you want.
Go for a jog or enjoy an evening walk on a peaceful track of Model Town Park. Fulfill your fitness dream by joining nearby state-of-the-art nearby gyms. The society also offers a public library, renowned institutional brands, public and private colleges, and universities.
Neighborhood:
Owing to a house in Model Town means a lavish lifestyle and swift access to all comforts. Located on Main Ferozepur Road, it is a neighborhood of several commercial buildings including Arfa Kareem Park, and famous hospitals. Its boundaries touch Kotlakhpat Industrial Area, Faisal Town, and Garden Town. Adjacent to it, there is another lush place, Nawaz Sharif Park captivating the attention of all. People get lost in its soothing environment, shady trees, and cold breeze. Flocks of ducks coming straight out of water please the senses.
Model Town Link Road easily connects to shopping plazas Pace and Victoria. It also takes 15 minutes drive to reach the famous, Packages Mall from society.
With the passage of time, property prices and rent go on the hype that's why offering you the opportunity to get a house for rent in Model Town. If you are an investor, it's the right moment to buy residential or commercial properties for rent in Model Town. With the luxury lifestyle, the houses for sale in Model Town Lahore lets you get a home of your fantasies. Log on to ilaan.com and put an end to house searches.