Lahore Greenz Reserves Inventory for Overseas Pakistanis
Lahore Greenz is arguably one of the finest additions in the farmhouse communities of Lahore. This farmhouse community is located at the Bedian Road, near DHA Phase 10 which makes it easily accessible from the airport. Ring Road is also linked with the Bedian Road and DHA Phase 10 which adds value to its locality and also makes this place easily reachable by the rest of the city.
Lahore Greenz, being Lahore's first planned farmhouse community, offers the most modernly and beautifully designed farmhouses under the supervision of expert builders and architects. Not just the interior but the outside look of the farmhouse, lawn, parking, BBQ area, swimming pools, and other amenities are also impeccable. The minimum area of a farmhouse consists of 2 Kanal which is an ideal area for a wide, expansive, and ideally designed farmhouse. The plots for farmhouses in Lahore Greenz are available in as much as 16 Kanal sizes also. The starting price is 6,000,000 and price per Kanal is quoted as 3,000,000 by the management of Lahore Greens. These prices are valid for a limited time only and soon, the original prices of 33,000,000 per Kanal will be reinstated.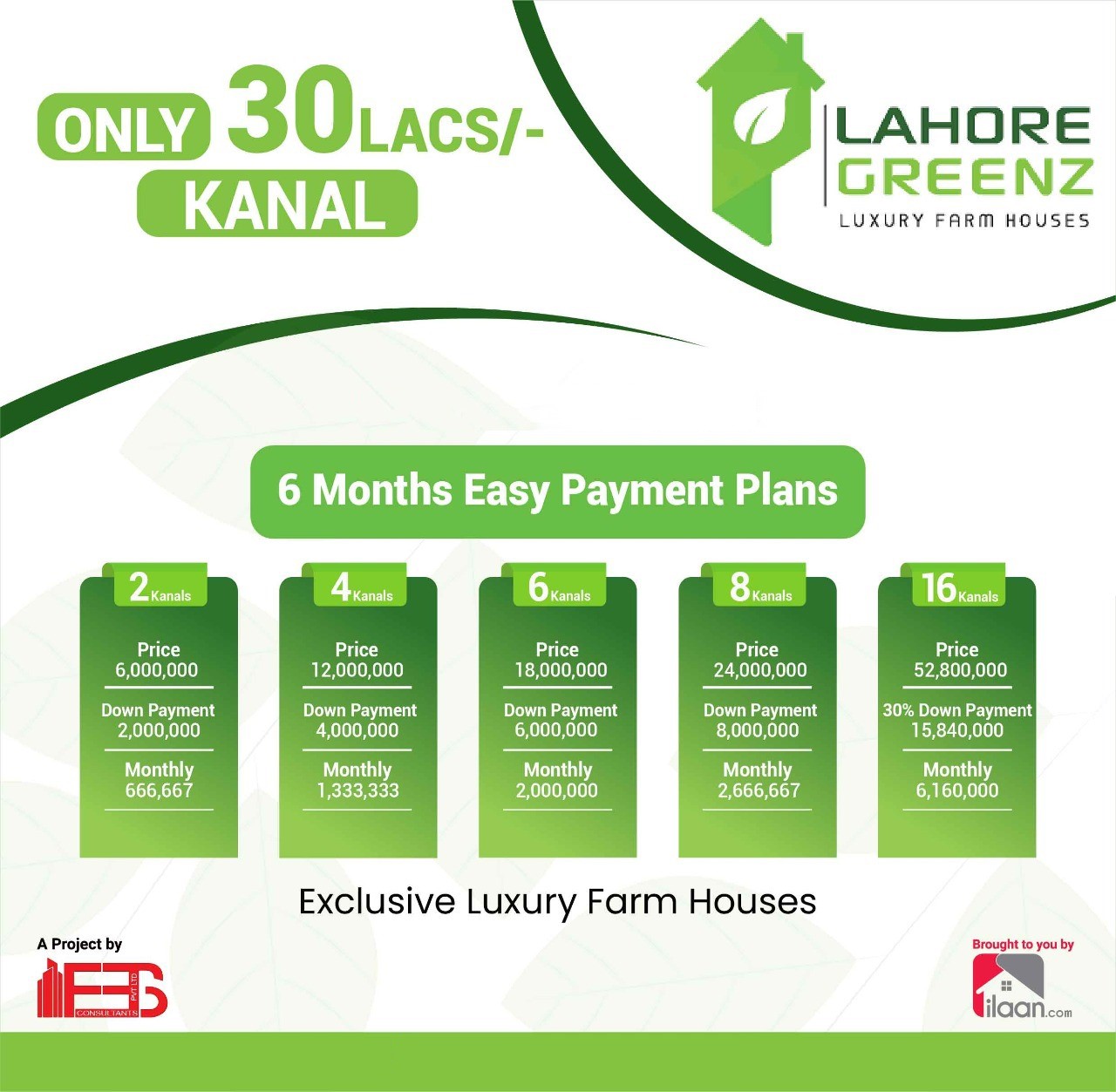 Lahore Greenz Announces Special Quota for Overseas Pakistanis
The fact that prominent Lahore Greenz in the real estate industry is that, they are offering all overseas Pakistani residents to invest in Lahore Greenz and bring business to their homeland. They have reserved special quota for the overseas investors and a large number of investors have taken interest in investing a huge amount in this project. Overseas Pakistanis are often looking for ventures where they can invest their money and earn handsome returns. From the investor's point of view, Lahore Greenz is as secure and lucrative as you can imagine.
One major reason is that a large number of investors from inside or outside the jurisdiction of Pakistan have decided to select Lahore Greenz for investing is its fully developed and livable farmhouse community. Every basic need to live a happy and complete life is available here. The basic utilities are also available except for Sui Gas, which is expected to be made available soon.
Grand mosques, parks, greenbelts, gymnasium, and 24 hours standby security system also plays a prominent role in making Lahore Greenz a very well reputed farmhouse community of Lahore.
Why should overseas Pakistanis invest in Lahore Greenz?
Lahore Greenz Luxury Farm Houses has maintained the highest standards of living in the community that the overseas Pakistanis find great value in. Besides the living standard, Lahore Greenz has a lot to offer in terms of value for the money. One of them is the high return on investment. Since its inception, the property in this community has increased in value by as much as 70% and that has happened in just 2-3 years. In the next 3 years, more appreciation in value is expected because of the development in the surrounding areas such as DHA Phase 10 and more.
The plots in Lahore Greenz are ready for possession and construction. That means no wait for balloting and other formalities. Just buy and start construction. Moreover, the developers are also offering custom farmhouse construction options in different price ranges. There are no hindrances in processing or transferring. Out of these facilities, the one that stands out is that there are no hidden charges whatsoever.
Can't book a farmhouse? Ilaan.com is here to help you
Lahore Greenz is a leading and highly appreciated farmhouse project in Lahore so far. ilaan.com is exclusively marketing the project allowing you to book your plot with complete satisfaction. We can also arrange site tours for you and help you get a complete insight into the project. Don't wait further, the inventory is running out quickly and the reduced prices are valid for a limited time only.