History of Bahawalpur
The area covered by the state is 45,911 Km2 and consisted of a population of 1,341,209 in 1941 and now it is the 12th largest city of Pakistan. The town of Bahawalpur was the capital of the state at that time. Bahawalpur state was found in 1727 AD by Nawab Sadiq Muhammad Khan Abbasi. Mr. Nawab allied with the British in 1833 and Bahawalpur became the princely state of British India. After partition, Bahawalpur joined the Dominion of Pakistan. It remained an independent state till 1955 and then it got merged with West Pakistan`s province.
The Abbasi tribe claimed to be descendants of Abbasid Caliphs and the ruling family of Bahawalpur was amongst them. During the fall of the Durrani Empire in the 17th Century, the tribe came to Bahawalpur and assumed independence. Bahawalpur was a group of states along with other Cis-Sutlej states and it lies between Sutlej River on the north side and The Himalayas mountains on the east side, while Sirsa District on the west side, Delhi District and Yamuna River on the south side. These states were under the rule of the Scindhia Dynasty, other Rajas and Sikh sardars and after the Anglo-Maratha War of 1803-1805, the British won this territory from Marathas.
Nawab helped the British with supplies in First Anglo-Afghan War and in 1847 it worked actively with Sir Herbert Edwardes for the expedition against Multan. As a reward, he was given a one lakh lifetime pension and districts of Bhung and Sabzalkot. After his death, his third son took over the succession whom he nominated, but this son was deposed by his elder brother and gained refuge in the British region with the pension from revenues of Bahawalpur. While he got confined in the Lahore Fort, after breaking his promise to leave the claims, in 1862, he died there. Nawab`s son, Nawab Sadiq Muhammad Khan IV got succession after his death. Nawab came fully in power and during Afghan campaigns in 1878 till 1880, nawab put all the resources of the state at the disposal of the British Indian Government. When he died in 1899, his son Muhammad Bahawal Khan V got the succession who came in full power in 1903. He was given the famous salute of 17 guns. The Bahawalpur House in Delhi has now become the National School of Drama.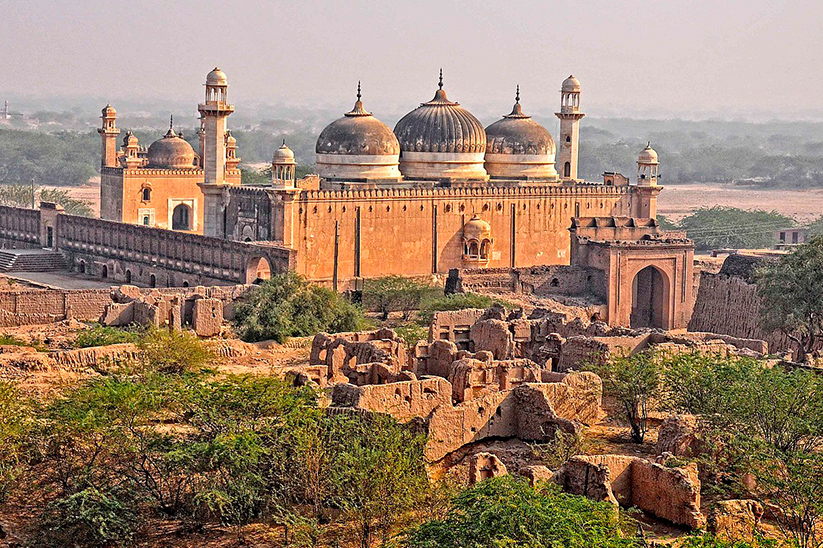 Independence of Pakistan
After the independence of Pakistan, Nawab of Bahawalpur Sadeq Mohammad Khan V got too generous and helpful towards the government of Pakistan as he gave away seventy million rupees to the government and also Bahawalpur state took the burden of the salaries of all government departments for one month. Furthermore, he donated his private property to King Edward Medical College, the Mosque of Aitchison College Lahore, and the University of Punjab. In 1947, the Nawab signed an agreement with Pakistan`s government as per which Bahawalpur State would now fall under the label of the territory of Pakistan.
In 1953, at the installation of Faisal II of Iraq and at the coronation of Elizabeth II, Nawab represented Pakistan. The agreement was signed between Nawab Sadiq Muhammad and General Ghulam Muhammad Malik according to which Bahawalpur State became part of West Pakistan`s province, and Nawab started getting a stipend of 32 lakh rupees per year but maintaining the Nawab`s title and protocol outside and inside Pakistan.
The last ruling Nawab of Bahawalpur, Nawab Sadiq, died in London in 1966, while his dead body was brought to Bahawalpur and got buried in Drawer Fort which was his ancestral graveyard.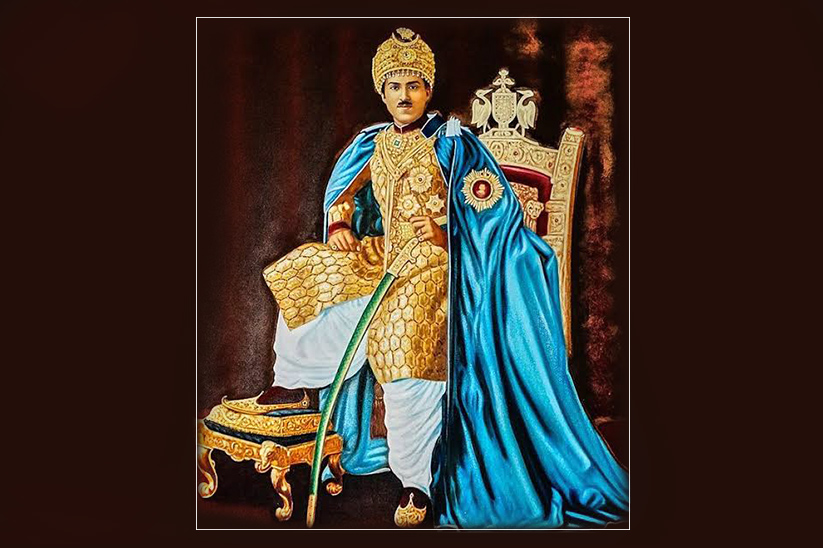 Current Period
Nawab family of Bahawalpur is still respected the same way and Nawab Salahud-Din Ahmed Abbas who is the grandson of the last ruling Nawab is one of the most famous political figures in the city.
Development by Nawab
There were many developments done in the state by nawabs and in every field. Various schools, colleges and later on universities were opened by them, a large number of scholarships were granted to the deserving students, Railway track was laid, Canals were dug, Hospitals and dispensaries were built, and last but not the least, the Sutlej Valley Project was completed by them to provide water to Bahawalpur region.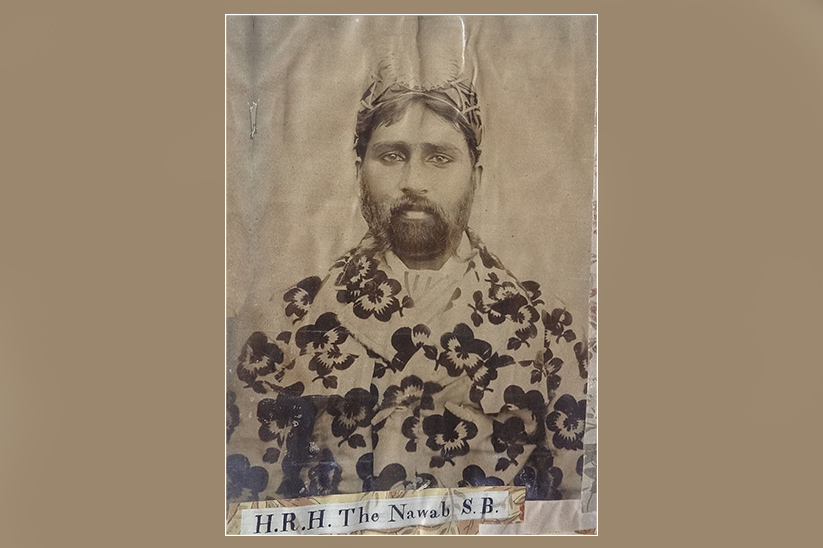 Nawabs also gifted portions of their properties in Lahore for the mosque at Aitchison College, a block to King Edward Medical College and Punjab University as well.
A Brief Introduction to Modern Bahawalpur
Bahawalpur is known as the city of Nawabs, because of the continuous rule of the Nawab family in the state. it has become one of the modernized cities of Pakistan as it is developing with time in terms of education, construction, housing societies, buildings, etc.
DHA Bahawalpur
DHA Bahawalpur has contributed a lot to the modern era of development. The society was developed by one of the largest developers in Pakistan which is known as the Defence Housing Authority.
The elite lifestyle with elegant infrastructure has been provided by the society no matter it comes to houses for sale, houses for rent, the plot for sale, flat for sale, flat for rent, or any property in a commercial area. The overall area has an elite and sophisticated touch with the presence of prominent restaurants, cafes, mosques, gated security, and all major and modern amenities.
Some parks promote greenery and advance set up for running, walk, and swims for the enjoyment of kids. There are different trees and plants all around the society and DHA aims to always promote greenery for the sake of a fresh and healthy environment.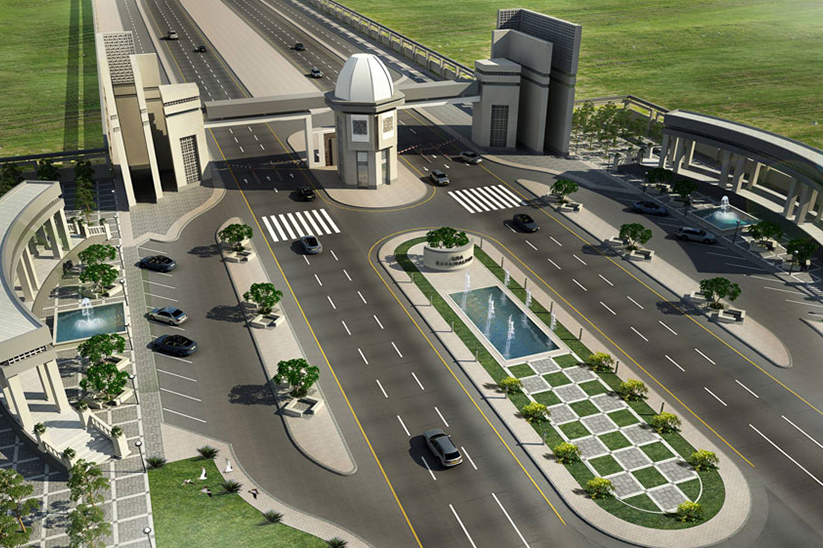 Property types in DHA Bahawalpur
House for sale
There is a great variety of houses for sale in DHA Bahawalpur, providing a wonderful lifestyle to the residents of the area with all other amenities such as a pure and green environment, great sewage and water sanitation system, consistent supply of electricity, water, and gas.
There are 3.3 Marla houses, 5 Marla houses, 6 Marla Houses, 10 Marla Houses, 12 Marla Houses, 1 Kanal house, and various other dimensions available for houses for sale in DHA Bahawalpur.
The houses are double unit houses as well as single-unit houses, now it depends on uponwhat suits your budget and what capacity you require.
Average prices of the house for sale n DHA Bahawalpur
5 Marla houses for sale is of 28 lakh, 7 Marla houses is of 70 Lakh, 9 Marla houses for 1 crore, 12 Marla houses for 1.18 Crore. The prices may vary with surrounding development with the passage of time.
House for rent
If you cannot afford to buy a house in DHA Bahawalpur then the other option is renting a house there which will make you enjoy the same environment and facilities at a reasonable cost per month, as compared to buying a house and paying a huge amount all at once.
There are 5 Marla houses, 10 Marla houses, 6 Marla houses, 12 Marla houses, 1 Kanal houses, and so on. You will get every variety and dimension of the house that would best suit your needs.
Average prices of the house for rent in DHA Bahawalpur
6 Marla houses are of about 92 lakh per month, 6 Marla houses are of 1.07 Crore per month, 12 Marla houses is of 1.2 Crore per month. While 12 marla, 9 marla, and 6 marlas are the best dimensions most in-demand and mostly found in DHA Bahawalpur.
Residential Plots for sale
The prices of plots for sale in DHA Bahawalpur differ in each category. Those who want to book the plots, have to submit an application form at any of the offices of DHA, online or at selected banks. Once the applications are submitted, you have to wait for the balloting process to take place. In this process, computerized balloting is performed after which the plots are allotted to the owners and they can then initiate the construction.
If you are looking to invest in plots for sale in DHA Bahawalpur, you should know a few things about the project before you actually do. These include the complete information of the project as well as the payment plan, the development charges, and more.
Average prices of Residential Plots for sale n DHA Bahawalpur
10 marla residential plot in DHA Bahawalpur is of about 22.5 lakh, while 1 Kanal plot is of 50 lakh. The price of these plots may vary if you delay in buying, depending upon the development process going on around as the society is still constructing and developing.
Commercial plots for sale
Buying a commercial plot in the commercial sector of DHA Bahawalpur is quite beneficial in favor of businessmen because it's a famous region consist of a huge number of people roaming around and promoting and utilizing various businesses, increasing their value.
There are 4 marla plots, 8 marla plots, 10 marla plots, 1 Kanal plots, 2 Kanal plots, and so on. The dimensions of the plot you can choose according to your requirement for the setup, hence the price of the plot will also vary accordingly.
Average prices of Commercial Plots for sale n DHA Bahawalpur
4 Marla commercial plot in DHA Bahawalpur will cost around 3 lakh, 8 Marla plots around 5 Lakh, 1 Kanal commercial plot is about 45 lakh, 7 Kanal is of about 1.6 Crore. The prices of plots may vary with the passage of time and with development around the area, increasing or the value of the property.
Find a House in Bahawalpur
You can easily find a house in Bahawalpur by visiting real estate websites such as ilaan.com, which have a listing section over their app and websites with pictures of each angle and section of the houses in various societies and areas, making it easier for the buyer or renter to choose the best suitable for himself/herself.
Bahawalpur`s Major Temptations - Near and Inside
Life in Bahawalpur
Uch Sharif – beautiful historical site for tourists – 75 Km from Bahawalpur.
CholistanDesert – an interesting tourist attraction – 30 Km from Bahawalpur.
Derawar Fort – located in the Cholistan Desert – 100 Km from Bahawalpur.
Lal Suhanra National Park – one of the largest national parks of South Asia covers about 153000 acres of land.
Noor Mahal – Made by a Nawab for his Wife – the hidden gem of Bahawalpur.
Darbar Mahal – a palace built by Bahawal Khan V – initially named Nishat Mahal.
Tomb of Bibi Jawindi – built in the spirit of historical Sufi premier Bibi Jawindi of Suhrawardiyyah in the 15th Century – one of the five monuments of Uchsharif.
Abbasi Mosque – located near Derawar Fort in Yazman Tehsil – was built by Nawab Bahawal Khan.
Head Panjnad – has 47 Dara (water closing points) – best fishing and picnic spot in Bahawalpur.
Islam Barrage – the barrage on River Sutlej in Hasilpur Tehsil – use for irrigation and flood control.
Jamia Masjid Al Sadiq – which was laid by great Sufi and spiritual master of Nawab of Bahawalpur Noor Muhammad Maharvi – was built 200 years ago and renovated in 1935.
Best Places to visit in Bahawalpur
1. Lal Suhanra National Park
Lal Suhanra is a national park which is located in Bahawalpur district of Punjab and is considered one of the largest national parks of South Asia. The place is famous because of its elegant landscape that includes forest, wetland, and a desert.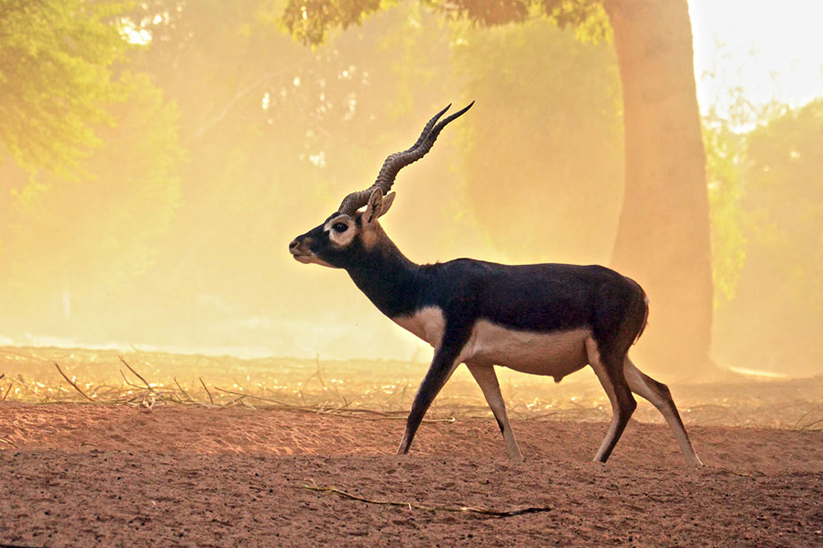 The park is located 35 Kilometers in the east direction of Bahawalpur and covers an area of 127,480 acres while 20,974 acres out of it comprises of green land. The Punjab government has decided to convert the Lal Sohanra National Park into a wildlife safari park of international standards. The park provides a home to about 400 animals and is an attractive tourist spot.
2. Darbar Mahal
Darbar Mahal is a palace which is located in the city of Bahawalpur in Pakistan. The building was constructed to hold courtly events and government offices of the former princely state of Bahawalpur. The place is near various other places such as Bahawalgarh Palace Complex, Farrukh Mahal, Gulzar Mahal, and Nishat Mahal. The palace was allotted to army officers in 1966 and it is not open to the general public.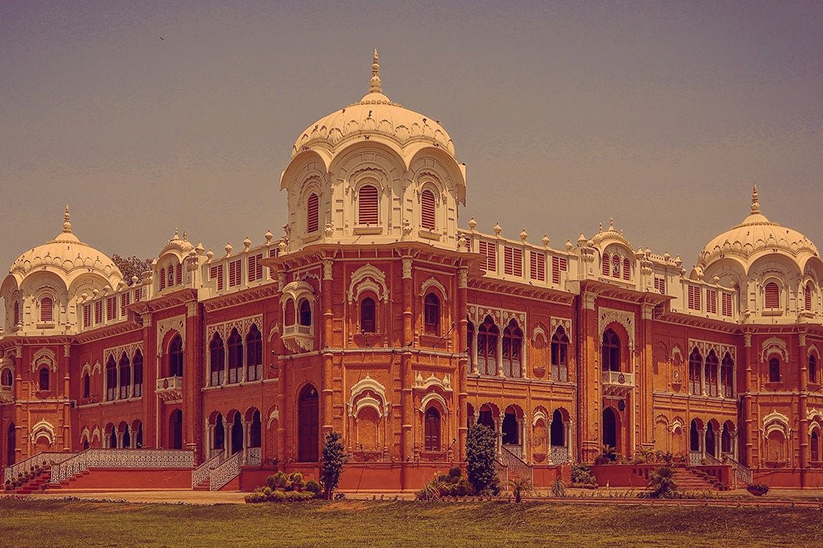 The palace is built with a combination style of local, Arabic, and European influences. Each corner of the building has a huge entranceway and jharokha balconies, and the building`s third floor is made with a Mughal style "chattri" roof, also all its corners have high standards of the octagonal turret with Sikh-style domes.
3. Derawar Fort
Derawar Fort is a huge square fortress in Ahmadpur East Tehsil, Punjab which is about 130 Km at the south side of the city of Bahawalpur while the forty bastions of Derawar can be seen from many miles in the Cholistan Desert. Its walls are thirty meters high and 1500 meters wide.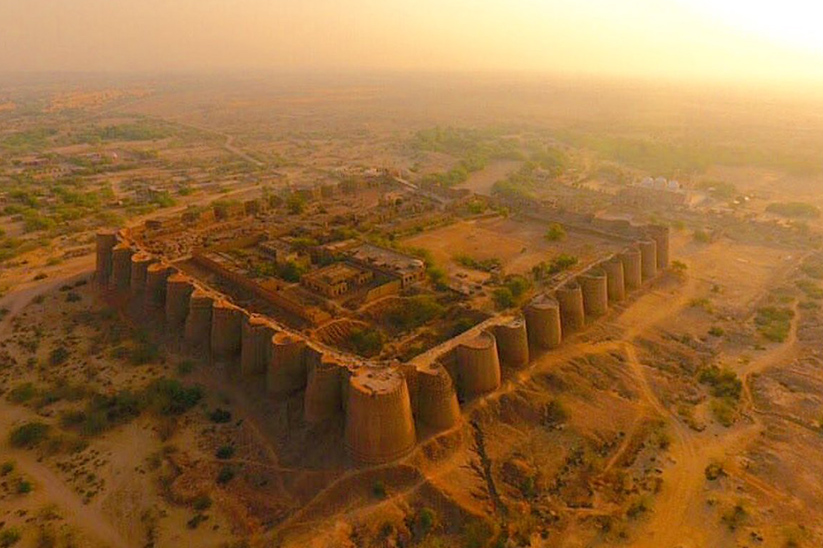 This fort was previously known as Dera Rawal while with time it started getting pronounced as Derawar and this became its permanent name and pronunciation. It was rebuilt by Abbasi ruler Nawab Sadeq Muhammad and in 1747 it came into the hands of Bahawal Khan`s preoccupations at Shikarpur. The fort is one of the most famous tourist spots to visit.
4. Bahawalpur Zoo
This zoo was formed in 1942 at a 25-acre area of a zoological garden in Bahawalpur, Punjab, Pakistan and it is managed by Pakistan`s Government. The zoo supplies Asiatic lions, Bengal tigers, and wild cats to other zoos in the country.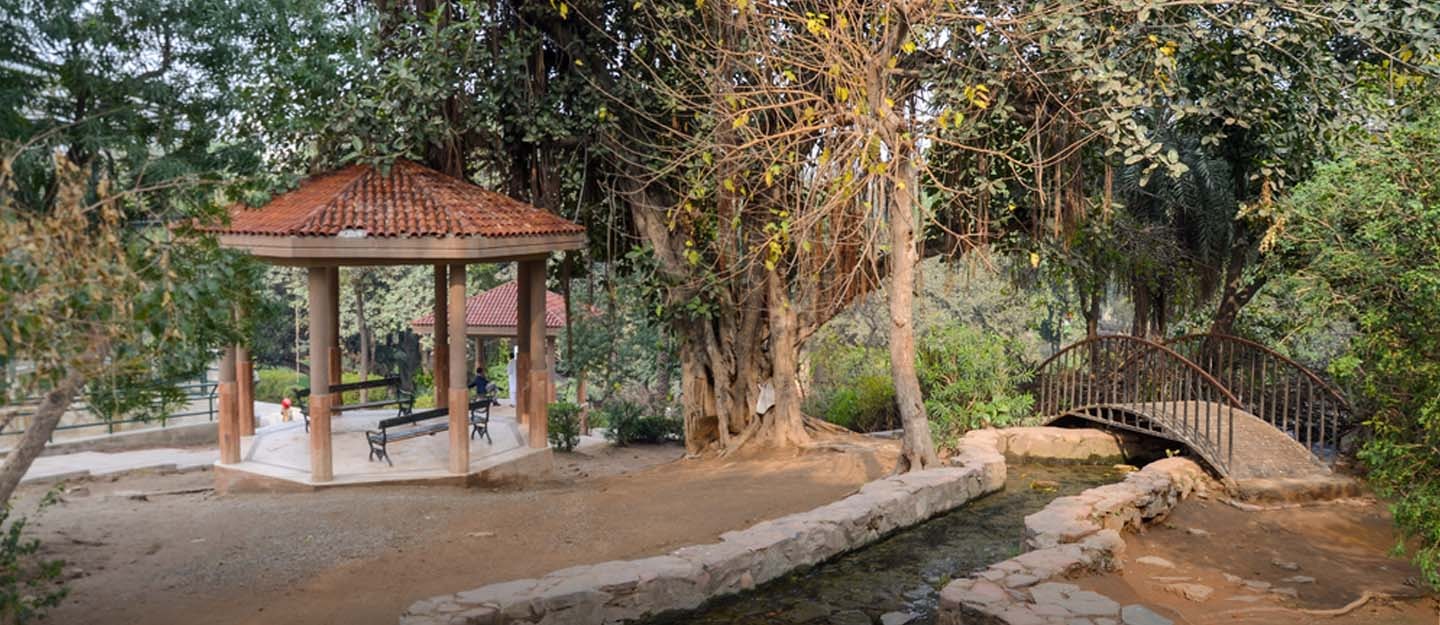 The Zoo has an aquarium and zoological museum with mammals, reptiles, and stuffed birds. The other animal exhibits are jackals, domestic cats, Indian civet cat, hyenas, Indian Civet Cat, Cranes, Pelicans, Geese, Hog Deer, Blackbuck, Chinkara, European mouflon, and European red deer. The visitors get fascinated by the beauty of the zoo and enjoy the company of various animals residing inside it.
5. Noor Mahal
Noor Mahal is a palace owned by Army, in Bahawalpur and belonged to Nawabs of Bahawalpur princely state and was built in 1872 during British Rule.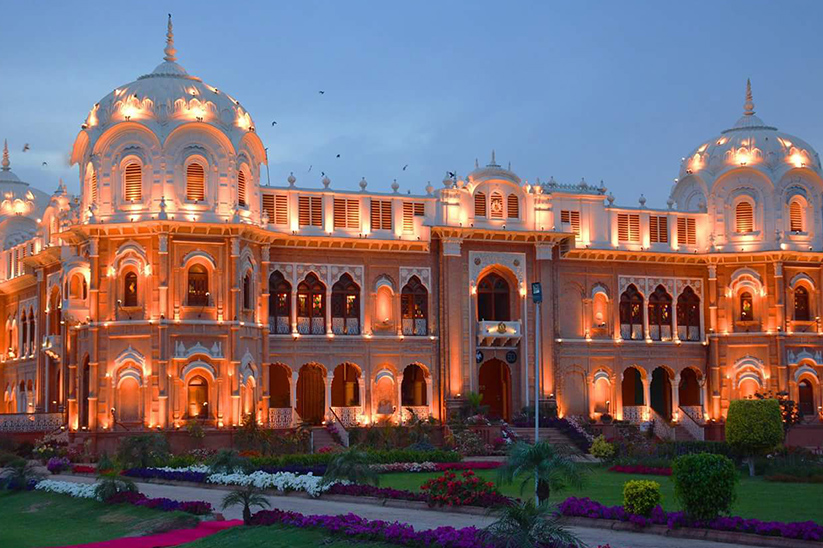 There are a lot many antiques present inside the palace, including used things of Nawabs, a large number of old swords, old coins and currency notes of old times, old laws note that were made back then, old furniture and pianos of Nawabs. Visitors never miss the chance of visiting the place to live the lives of those Nawabs by discovering their minute matters closely.
6. Uch Sharif
Uchsharif is a historic city which is located on the southern side of Pakistan. It is also known as being home for the Naqvi or Bukharis, after they immigrated from Bukhara. It was a regional metropolitan center that became a refuge for Muslim religious scholars who ran from persecution from all around the other lands. The city is relatively small and well-known for its intact historic urban fabric and a great collection of shrines which are built with elegant tile work and a unique architectural style that is of southern Punjab.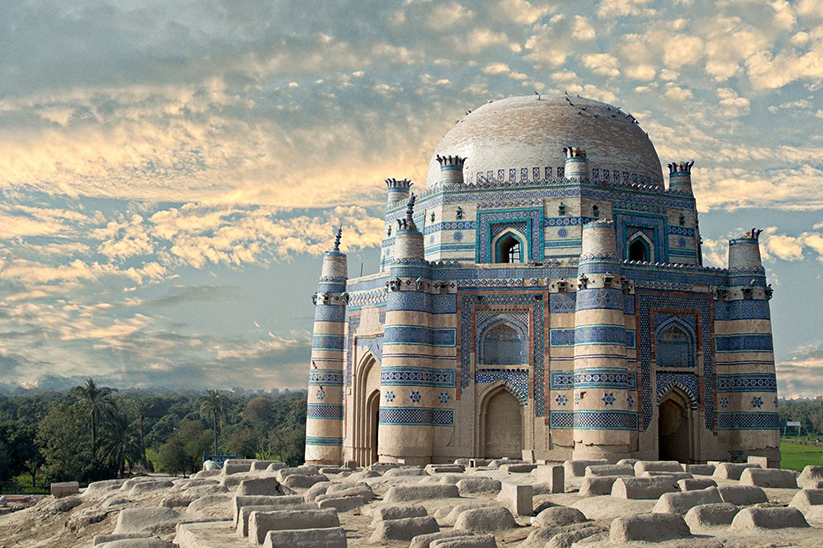 It is said that JalaluddinSurkh=Posh Bukhari, a well-known Central Asian Sufi from Bukhara, came to Uch and converted the town ruler`s daughter, Sunandapuri, into a Muslim. After that, he requested her to build a fortress and named it Uch which means "high".
Another source says that the converted princess` name was Ucha Rani, therefore, the name of the city was derived from her name. While another version furthermore quotes that Ucha Rani and her sister Sita Rani, both married Bukhari and were rulers of Uch and Sitapur.
This name of the city was not globally recognized for quite much time while everyone knew it as "Bhatia", a town that was invaded in 1006, by Mahmud of Ghazni. Today, the tourists visit this city and enjoy the historical importance of it, discovering every corner of the place.
List of Bahawalpur's most popular food items
Desert Grill – a famous restaurant in Bahawalpur having good local food and Bar B.Q -Dum Kabab and Chicken/Mutton Dhaba are their specialties.
Lataska – second most popular place – famous for Italian and Chinese food.
4 Seasons – sister of Multan`s Zanzibar restaurant – modern décor and an ambitious menu – famous for steaks, pizza, pasta, and Chinese mainly.
Pizza Hut – Most famous and popular choice for pizza.
KFC – first International Restaurant in the city.
List of Bahawalpur's most popular living hotels
New Bahawalpur Hotel – at Shahzadi Chowk – single room costs 350 per day.
Hotel One – 2-star hotel – located near the airport – considered the best hotel in Bahawalpur.
Pak Continental – located near the center of town – one room costs about Rs2000 to 2500 per day.
Luxury Hotel – in Fawara Chowk – easily reachable from Railway Station and Airport – room costs about Rs 1,800 a day.
Bahawalpur has developed so much with time that its name comes in the list of top prior places to visit in Pakistan.