The Best Performing Housing and Commercial Projects on ilaan.com
You may know that ilaan.com has now started the marketing and advertising of real estate projects within just 1.5 years of operations. Not one, not two, but there are 5 projects on board with ilaan.com with many more to follow. All of this has been made possible by the hard work of our team and the vision of the management.
Since the launch of projects on ilaan.com, we have been receiving a lot of queries about different projects. Investors and buyers looking for authentic and approved housing projects have turned in a huge number. If you are also looking to invest in the best housing projects, you would want to know about the best performing and most popular ones to secure good value for your money. Let's give you a quick update on the best performing projects available on ilaan.com and what makes them a good investment option.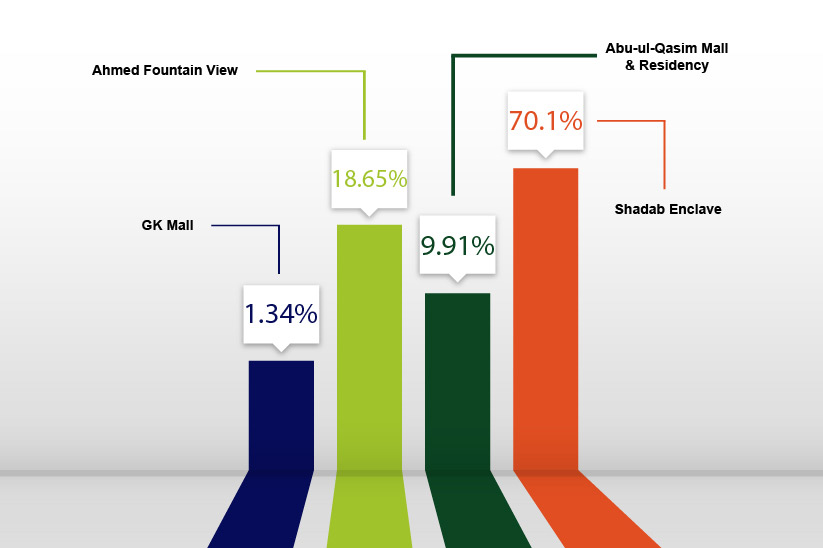 Shadab Enclave
Shadab Enclave is the hottest housing project on ilaan.com securing over 70% of queries. What makes this housing project popular is the affordable installment plan starting from just PKR 14,583. People from all walks of life are showing interest in the project. Developed by Shadab Builders, this project aims to introduce new living standards in the region. It is not just the price plan that makes this project popular but its location as well. It is located near Thokar Niaz Baig where all the basic necessities and facilities are available. You can find more details of the project here: Property In Shadab Enclave Lahore
Ahmed Fountain View Apartments
After Shadab Enclave, Ahmed Fountain View Apartments has received much praise from investors, and why not; it is a lucrative housing project in the ideal location of Gulshan-e-Mayor Karachi. Gulshan-e-Maymar is not just popular for residential purposes but the commercial sector is also booming in the area. These apartments are more than just luxury apartments and residents of this project are going to have a joyful life where all facilities of entertainment will be available nearby. Talking of entertainment, Dreamworld Resort is one of the major attractions located very close to the project site where facilities such as horse riding, water slides, snow area, golf course, and go-kart along with many more are available. You can find other details and a complete price plan of Ahmed Fountain View Apartments here: Property In Ahmad Fountain Karachi
Abu-ul-Qasim Mall & Residency
Abu-ul-Qasim Mall & Residency is all set to amaze you with its brilliant features that promise a prosperous life for you and your families. It is a unique project having 3 adjacent towers with 30 stories in each tower making it a total of 90 stories. What makes this project a golden investment opportunity is its prime locality and state of the art development plans. Due to the latest facilities, this project is already a hot project in the city of lights. Abu-ul-Qasim Mall & Residency offers 2, 3, and 4-bedroom apartments at really reasonable prices and installment plans. As per the recent updates, the digging for Abu-ul-Qasim Mall & Residency is expected to start very soon. Booking details and payment plan of this project are available here: Property in Abu-ul-Qasim Karachi
GK Mall
A project of Black cube Developers, GK Mall is a five-story residential and commercial building with 2 floors reserved for commercial purposes and 3 for residential purposes. Located in Pak Arab Society, GK Mall vows to bring modernization to common people's lives. The location of this project is the main highlight of this project and this is the reason why GK Mall has become a lot popular within a short period of time. All the major areas of Lahore are located nearby and Ferozepur Road offers a great commute and traveling facility. There are major schools, hospitals, mosques, and other facilities available in the surrounding areas. As per the recent updates, the ground floor has been completed and the construction is being completed for other floors. You can find the payment plan and booking details here: Property In GK Mall Lahore
The ranking of these projects is based on the number of leads that we have received in thousands of numbers. The booking of these projects is expected to close very soon. Don't miss your golden chance to buy your own home. Hurry up and book your home in your favorite project today!