A Message from Operations Manager to team ilaan.com
A team is the one that works together like a family towards the common goals. This is the beauty of an organization that each member has its own responsibility that helps in the accomplishment of that common objective. As we all know that we are going through a pandemic and like most of the companies, team ilaan.com is also working from home.
Working from home is not an easy job and it is very easy to get demotivated and lose focus. This is where the leaders step in – the higher management of the company that can help uplift the spirits of the team working. As a company, ilaan.com has been very lucky in having a team that is available around the clock and puts its heart and soul in everything assigned to them.
Considering the lack of motivation in the team during the lockdown, our Operations Manager from Karachi decided to step in and inspire some hope in the team. Here's a message from Mahvash Khan to all the team members of ilaan.com working across Pakistan.
Message from Operations Manager Mahvash Khan
I just want to thank and express my heartfelt gratitude to our teams across Pakistan.
Over the past month, team Ilaan.com has worked tirelessly to shift as many employees as possible to a work-at-home model. Our business is transforming quickly to ensure team safety and continued operating success. But our hard work is far from over. As many of our employees find themselves working from home — some for the first time — we must address the critical task of helping our ilaan.com family feel supported and comfortable working at home as they ensure business continuity for our clients.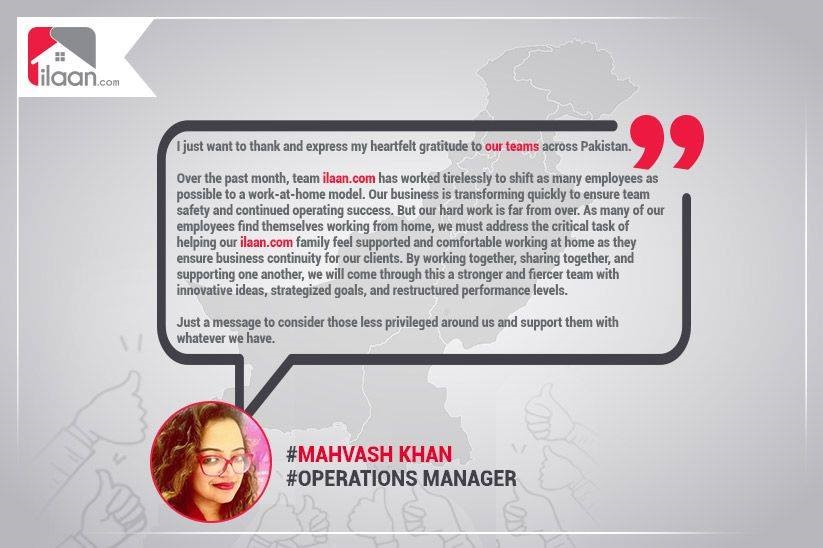 The good news is, we have a tremendous amount of experience delivering services and our teams are more than ever ready and willing to help by sharing their insights and best practices. We continue to focus on optimizing our teams by providing insights into their performance, support, and resources that ensure a successful transition.
This transition has surely helped an operational leader like myself hone our skills while adjusting to the virtual environment that is now required to keep our business moving forward.
There is a lot of work left to do, but I have faith that we are up to the challenge.
By working together, sharing together, and supporting one another, we will come through this a stronger and more fierce team with better innovative ideas, strategized goals, restructured performance levels and a better quality of life.
Just a message to consider those less privileged around us and support them with whatever we have. As little charity as a smile and a supportive hand can do wonders and will go a long way in becoming a better human being.