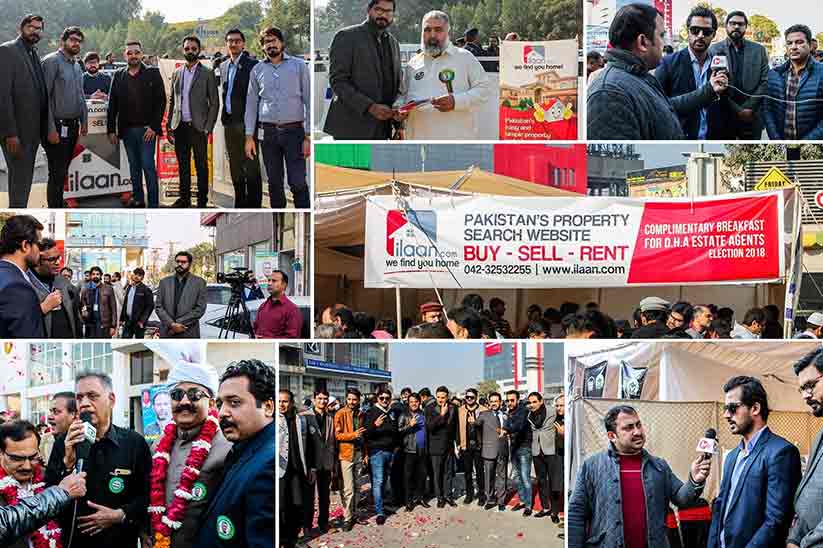 19
Dec
Abu Bakar Bhatti Elected as President in DHA Real Estate Agents Association Lahore Elections 2018
DHA Lahore, as we all know, is one of the prime locations of Lahore where lifestyle meets luxury. In this society, the DHA Real Estate Agents Association works for the betterment of its member realtors and facilitate them in selling properties easily.
Recently, the association conducted its elections that happen after every three years to choose the new leadership. Three major groups; DHA Realtors Group headed by Abu Bakar Bhatti, Professional Group headed by Ch. Khalid Mehmood, and Al-Khidmat Group led by Mian Talat, took part in the elections and gave tough competition to each other.
DHA Realtors Group secured the victory as Abu Bakar Bhatti took the responsibilities as President and now will head the association for the next three years till 2021.
ilaan.com organized a camp at the election venue to facilitate the voters and the parties. The purpose of the camp was not just to provide breakfast/lunch but to introduce a lot of registered members of DHA Realtors Association to ilaan.com and the benefits it provides to the real estate business. Through this election campaign, more than 1000 people were served with complimentary breakfast/lunch and this gesture was widely appreciated by the realtors who also invited ilaan.com to future campaigns.
ilaan.com also got a chance to provide awareness about the offerings of ilaan.com to the realtors without creating any favoritism to the competing associations in the elections. The guests appreciated the role of ilaan.com and were quite impressed by the features that ilaan.com is offering for the growth of the real estate sector. Ilaan.com looks forward to progressively working with the newly elected party to make the real estate sector more productive for the stakeholders.